SST Class 10 Term 2 Answer Key
SST Social Science Class 10 Term 2 Answer Key: CBSE has concluded Class 10 SST Social Science Term 2 Paper for 14th May 2022 (Saturday) and as the students come out of the exam centre they must be anxious to know what is the correct answer for questions asked in Social Science Class 10 Term 2. With the help of solutions discussed here by our faculty, the students can analyse their performance in Social Science Term 2 Exam. If you are looking for SST Class 10 Answer Key 2022 for the Term 2 Exam, then go through the complete discussion of the correct answers for all questions here.
Class 10 SST Term 2 Answer Key 2022
As mentioned in SST Social Science Term 2 Syllabus, the question paper consists of 5 sections to be completed in a time duration of 2 hours, The total marks for CBSE Class 10 Social Science term 2 exam is 40 marks. For each section, the marks distribution is as follows.
Section-A is compiled of 5 very short answer type questions (2 marks each). The word limit should not exceed 40 words in each answer.
Section B is compiled of 3 short answer type questions (3 marks each). The word limit should not exceed 80 words in each answer.
Section C is compiled of 2 long answer type questions (5 marks each). The word limit should not exceed 120 words in each answer.
Section D is compiled of 2 Case Based questions (4 marks each).
Section E is compiled of 1 question with two parts- History & Geography (3 marks)
CBSE Class 10 Answer Key SST Social Science
Term 2 Social Science Answer Key has been discussed in this article after the conduction of the Social Science Term 2 Exam on 14th May 2022.
CBSE Class 10th Answer Key SST
Exam Conducting Body
Central Board of Secondary Education
Exam Name
CBSE Class 10 Social Science
Category
Answer Key
Exam Date
14th May 2022 (Saturday)
Unofficial Answer Key
14th May 2022
Official Website
https://www.cbse.nic.in/
Class 10 Hindi Sample Paper Term 2- Click to Practice
Class 10 SST Social Science Term 2 Question Paper & Solution
The students can refer to the CBSE Class 10 Answer Key SST that will be discussed by our expert faculty after the completion of the Term 2 Social Science Exam on 14th May 2022. To get the accurate and detailed Social Science Class 10 Term 2 Answer Key 2022, bookmark this page as we will be providing all questions with their correct answers here.
SECTION A
Question 1- Why did Indian merchants and industrialists support the Civil Disobedience Movement? Explain.
Solution- The industrialists and the merchants supported the Civil Disobedience Movement initially to protect their own business interests. They gave monetary help and refused to buy and sell imported and foreign goods. They demand to remove restrictions or trade barriers imposed on them.
Question 2- Examine the significance of pipelines as a means of transportation in the country.
Solution- The pipeline transport network is a new arrival in the transportation of India. Transport of crude oil, petroleum products, and natural gas from oil and natural gas fields to refineries, fertilizer factories, and big thermal power plants. ' Even solids can be transported through pipelines when converted into a slurry.
Question 3- Why has India adopted a multi-party system? Explain.
Solution- India is a democratic country and India adopted a multi-party system because of the social and geographical diversity of the nation. Through this system, different and diverse parties could represent the sections of the society and power does not absorb into the hands of one single party.
Question 4- How is 'Demand Deposit an essential feature of money?
Solution- Demand deposits share the essential features of money in following ways:-
1. The facility of cheques against demand deposits makes it possible to directly settle payments without the use of cash.
2. Since demand deposits are accepted widely as a means of payment, along with currency, they constitute money in the modern economy.
Question 5-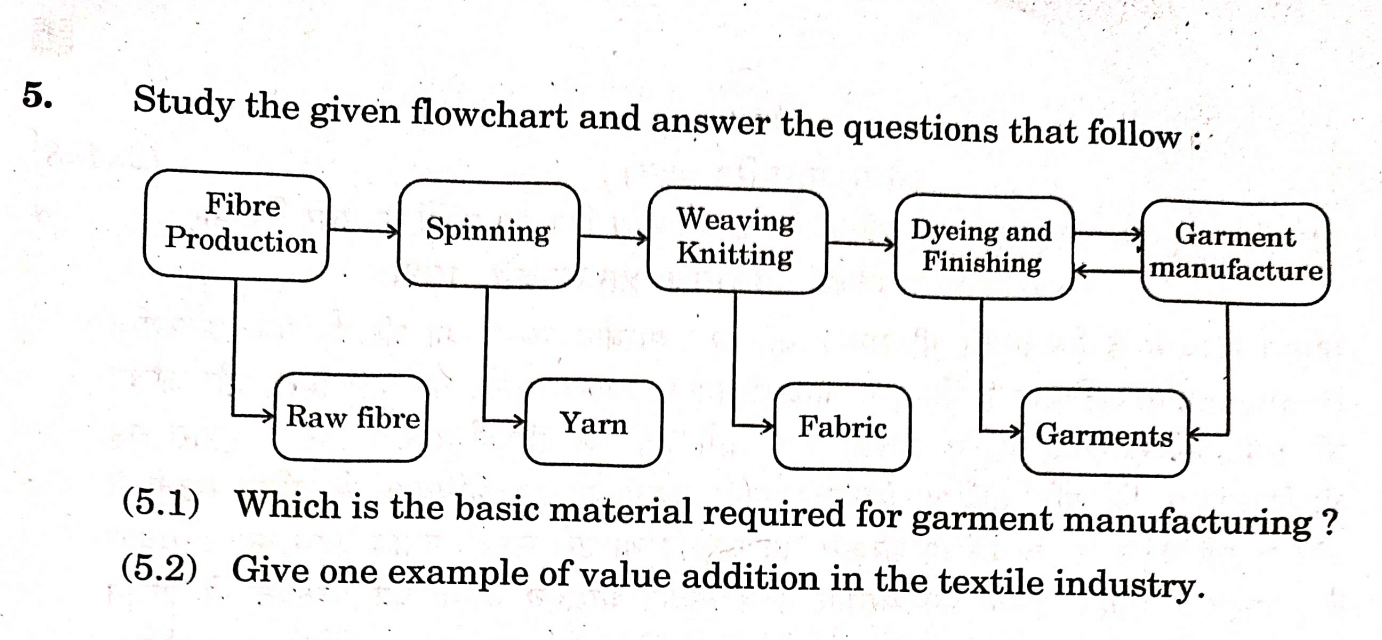 (5.1) Which is the basic material required for garment manufacturing ?
Solution- Raw Fibre
(5.2) Give one example of value addition in the textile industry.
Solution- Garments
SECTION- B
Question 6- (a) Differentiate between formal and informal sources of Credit
Solution-
Formal sources follow the sources of credit that are registered by the govt. and have to follow its rules and regulations whereas informal sources include those small and scattered units which are largely outside the control of the government.
The main motive of formal sources is social welfare whereas the main motive of informal sources is profit-making.
Formal sources usually charge lower rates of interest whereas in informal sources they charge much higher rates of interest.
RBI dominates the functions of formal sources of credit but in informal sources, there is no organisation that dominates the credit activities.
Banks and cooperatives are examples of formal sources and moneylenders, traders, employees, friends and relatives etc are example of informal sources.
OR
(b) How does a bank work as a key component of the financial system? Explain
Solution- A financial system is an economic arrangement wherein financial institutions facilitate the transfer of funds and assets between borrowers, lenders, and investors. Its goal is to efficiently distribute economic resources to promote economic growth and generate a return on investment (ROI) for market participants.
Question 7- "It was essential to preserve folk tradition in order to discover one's national identity and restore a sense of pride in one's past." Support the statement in reference to India.
Solution- Nationalism spreads when people begin to believe that they are all part of the same nation when they discover some unity that binds them together. History, fiction, folklore and songs, popular prints and symbols, all played a part in the making of nationalism. We should not forget our old folk tradition infact we should also accept new traditions and carry forward both at same pace.
Question 8- Explain the role of the Election Commission in the registration and recognition of political parties in India.
Solution- The Election Commission is regarded as the guardian of elections in the country. In every election, it issues a Model Code of Conduct for political parties and candidates to conduct elections in a free and fair manner. Election Commission implements the Code of Conduct and punishes any candidate or party that violates it. 3. During the election period, the EC can order the government to follow some guidelines, to prevent the use and misuse of governmental power to enhance its chances to win elections, or to transfer some government officials.
SECTION C
Question 9- (a) "Democracy is a better form of government than any other alternative." Analyse the statement.
Solution- Democracy is a better form of government than any other alternative because of the following factors:
Democracy promotes equality among citizens.
Democracy provides a method in order to resolve conflicts.
Democracy allows room to correct mistakes.
Democracy enhances the dignity of the individual.
Democracy also improves the quality of decision making.
OR
(b) Analyse the reasons for the overwhelming support for the idea of democracy all over the world.
Despite any shortcomings that we might witness in a democratic model of governance, it is still the most preferred form of government all over the world including in South Asia. Some reasons for this are given below:
People have the right to choose who governs them through regular elections.
The elected government is answerable to the people and to ensure its stability, has to deliver on its promises.
Democracy ensures transparency.
It accommodates diversity and promotes inclusion and equality.
It gives an equal chance of participation to all the citizens.
An important pillar of democracy is ensuring the dignity and freedom of people.
The true power lies with people.
Lastly, democracy has proven to be a better model than dictatorship, aristocracy, or any other form of governance.
Question 10- (a) Examine the factors which facilitate globalization in India.
The important factors are:
(1) Historical: The trade routes were made over the years so that goods from one kingdom or country moved to another. The well known silk-route from east to west is an example of historical factor.
(2) Economy: The cost of goods and values to the end-user determine the movement of goods and value addition. The overall economics of a particular industry or trade is an important factor in globalisation.
(3) Resources and Markets: Natural resources like minerals, coal, oil, gas, human resources, water, etc. make an important contribution in globalisation.
(4) Production Issues: Utilisation of built-up capacities of production, sluggishness in domestic market and over production makes a manufacturing company look outward and go global. The development of overseas markets and manufacturing plants in autos, four-wheelers and two-wheelers is a classical example.
(5) Political: The political issues of a country make globalisation channelised as per political bosses. The regional trade understandings or agreements determine the scope of globalization. Trading in European Union and special agreement in the erstwhile Soviet block and SAARC are examples.
(6) Industrial Organisation: Technological development in the areas of production, product mix and firms are helping organisations to expand their operations. The hiring of services and procurement of sub-assemblies and components have a strong influence in the globalisation process.
(7) Technologies: The stage of technology in a particular field gives rise to the import or export of products or services from or to the country. European countries like England and Germany exported their chemical, electrical, and mechanical plants in the 50s and 60s and exported high tech (then) goods to underdeveloped countries. Today India is exporting computer/software-related services to advanced counties like the UK, USA, etc.
OR
(b) Assess, how globalization has touched the lives of the larger society.
Solution-
Globalization is associated with rapid and significant human changes. The movements of people from rural to urban areas have accelerated, and the growth of cities in the developing world especially is linked to substandard living for many. Concepts of national identity, and family, job and tradition are changing rapidly and significantly.
Globalization indicates that the world today is more interconnected than before. Globalization in its basic economic sense refers to the adoption of open and unfettered trading markets (through lowering of trade barriers, removal of capital controls, and liberalization of foreign exchange restrictions).
Large volumes of money movement increased volumes of trade, and changes in information technology and communication are all integral to a global world.
There is also a significant movement of people from one country to another for trade and work. Such increases in the movement of goods, labour, and services have weakened national barriers and restrictions that are imposed by a nation-state.
"Global interaction, rather than insulated isolation, has been the basis of economic progress in the world. Trade, along with migration, communication, and dissemination of scientific and technical knowledge, has helped to break the dominance of rampant poverty and the pervasiveness of 'nasty, brutish and short lives that characterized the world. And yet, despite all the progress, life is still severely nasty, brutish and short for a large part of the world population.
SST Class 10 Term 2 Question Paper PDF [32/1/1]
Class 10 SST Term 2 Answer Key: FAQs
Ans. At Career Power, we have discussed complete SST Term 2 Answer Key on 14th May 2022.
Ans. The word limit for short answer in SST Term 2 Exam should not exceed 80 words in each answer