SBI PO Salary 2020
SBI PO Salary is an attraction to the aspirants. With the release of the job opportunity each year and high package paid than other nationalized banks, a lot of candidates compete for this post. Let us look at the salary details of SBI PO, which is a major reason for the large number of applicants. The article describes the complete salary structure, In Hand salary, Allowances, Perks & Job Profile of SBI PO.
SBI PO 2020 Official Notification & Apply Online Link
SBI PO Salary Structure
The beginning salary, basic pay of SBI PO is Rs 27620. With four advance increments in the compensation size of 23700-980 (7) – 30560 – 1145 (2) – 32850 – 1310 (7) – 42020. This means the PO will get a basic of Rs 23700 with an increment of Rs 980 for the next 7 years, followed by a basic of Rs 30560 with an annual increment of Rs 1145 for the next two years and so on. The maximum basic salary will be Rs 42020.
SBI PO In Hand Salary
Approximately, a total of Rs 40000 to 42000 salary is the monthly in-hand salary of SBI PO. The Gross compensation received lies between 8.20 Lakhs (minimum) to Rs. 13.08 lakhs (maximum) per annum. The amount varies with the location of job posting.
SBI PO Allowances
The salary includes a number of allowances that contributes to the total sum. These are some standard allowances that a Probationary officer in SBI gets along with the basic amount. These include:
| Allowance | Amount |
| --- | --- |
| City Compensatory Allowance | 3% – 4% depending on location |
| House Rent Allowance | 7% – 9% depending on Place of Posting |
| Furniture Allowance | INR 1,20,000 |
| Medical Insurance | 100% covered for employee | 75% covered for dependent family |
| Travelling Allowance | AC 2-tier fare is reimbursed to the employee for official travels |
| Petrol Allowance | INR 1,100 – 1,250 |
| Newspaper Allowance, Entertainment Allowance, Books Allowance, etc. | Varies based on Cadre |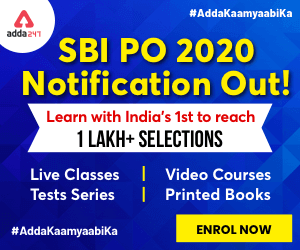 SBI PO Perks
An SBI PO enjoys the following perks:
1.Contribution Pension Scheme/New Pension Scheme.

2.Medical Aid for self (100%) and for family (75%).

3.LTC.

4.Home Travel Concession/ Leave Fare Concession.

5.Concessional interest rates for Housing/Car/Personal Loans.
SBI PO Job Profile & Promotion
Being the most prestigious bank of the country, the employees ought to get the best from the job. SBI conducts promotion exams annually, that increases the job standard(profile), position and salary. Thus, a PO gets a good exposure in overall term of his career. A two year probation needs to be served by the SBI PO. After that, the promotion positions are as follows:
1.Assistant Manager

2.Deputy Manager

3.Manager

4.Chief Manager

5.Assistant General Manager

6.Deputy General Manager

7.General Manager

8.Chief General Manager

9.Deputy Managing Director

10.Managing Director

11.Chairman

Click Here to View detailed SBI PO 2020 Syllabus

SBI PO Salary Slip

Overall, a career as an SBI PO is a great chance to be associated with the most reputed nationalized bank and of course with the central government. Moreover, the benefits of a central government employee is also appealing to the candidates. Candidates may stay tuned to Careerpower, unit of Adda247, to know all about government jobs and its preparation.

SBI PO Salary 2020- Queries

Q1. What is in hand salary of an SBI PO?

An SBI PO gets a total of Rs 40000 to 42000 INR in-hand Salary.

Q2. What is the starting salary of SBI PO?

The starting SBI PO salary is Rs. 27,620/- (basic pay) which is followed by four increments. The pay scale of a Probationary Officer is 23700-980/7-30560-1145/2-32850-1310/7- 42020.

Q3. What is the salary of SBI PO 2020?

The salary of SBI PO 2020 is same as earlier ranging from 8.20 Lakhs (minimum) to Rs. 13.08 lakhs. The amount varies with the job location.

Q4. What is the highest rank an SBI PO can get in his/her bank career?

Chairman is the highest rank, an SBI PO can get in his/her bank career.

Click Here to View SBI PO Previous Year Cut-Off