Anthropology Syllabus: Anthropology is one of the popular UPSC optional subjects among the UPSC/CSE aspirants in recent times preparing for the UPSC IAS Mains Exam. The reason for its popularity is easily accessible resources for preparation to a lighter and easily understandable syllabus. Many UPSC aspirants skip this optional exam thinking this subject would be tough as the name describes. UPSC Anthropology Optional Syllabus needs the understanding of the Anthropology subject as science by the candidates and its application to human problems. There are a lot of diagrams in Anthropology, so make sure you practice diagram making and labelling as much as possible.
What is Anthropology?
If you are new to the subject, your first aim should be to develop conceptual clarity and understanding of the subject. Anthropology is the study of people, past and present, with a focus on understanding the human condition both culturally and biologically through the application of biology, cultural studies, archaeology, linguistics, and other social sciences.
UPSC Anthropology Syllabus 2022
As the Anthropology Syllabus for UPSC Mains Optional contains elements from science, it becomes a popular choice among science graduates. The complete Anthropology Syllabus for Optional Exam has been released by UPSC for UPSC CSE (Civil Service Examination) and the same has been discussed in this article.
Anthropology Syllabus for Paper 1
UPSC Syllabus for Anthropology Optional Subject for Paper 1 is divided into 12 parts which is further sub-divided, the Anthropology syllabus is related to the following topics-
Meaning, Scope and development of Anthropology, Relationships with other disciplines, Main branches of Anthropology, their scope and relevance, Human Evolution and the emergence of Man, The biological basis of Life, Principles of Prehistoric Archaeology. Chronology, Cultural Evolution.
Nature of Culture, Society, Marriage, Family, Kinship
Economic Organization
Political Organization and Social Control
Religion
Anthropological theories
Culture, Language and Communication
Research methods in Anthropology
Human Genetics
Concept of human growth and Development
Relevance of menarche, menopause and other bioevents to fertility. Fertility patterns and differentials.
Applications of Anthropology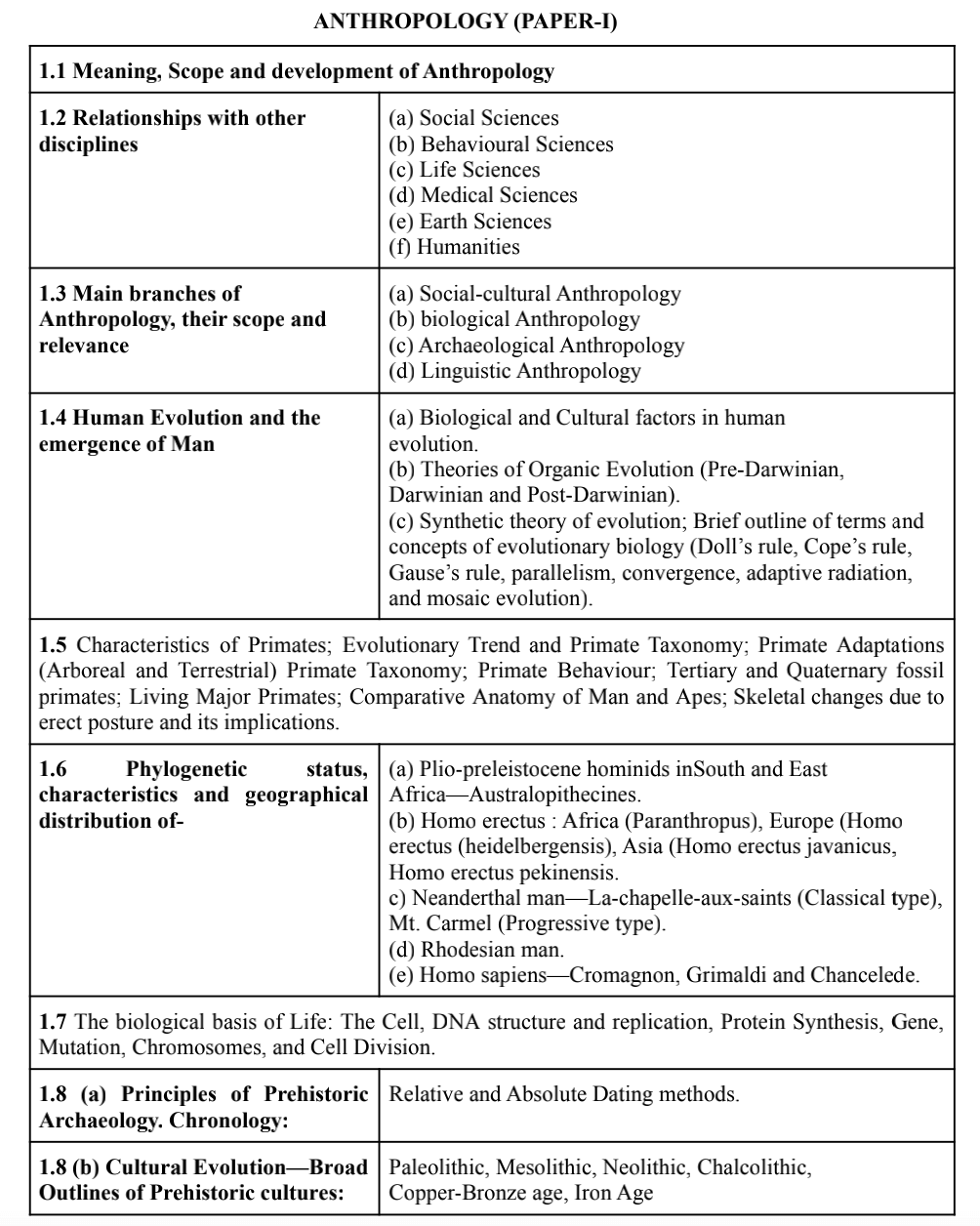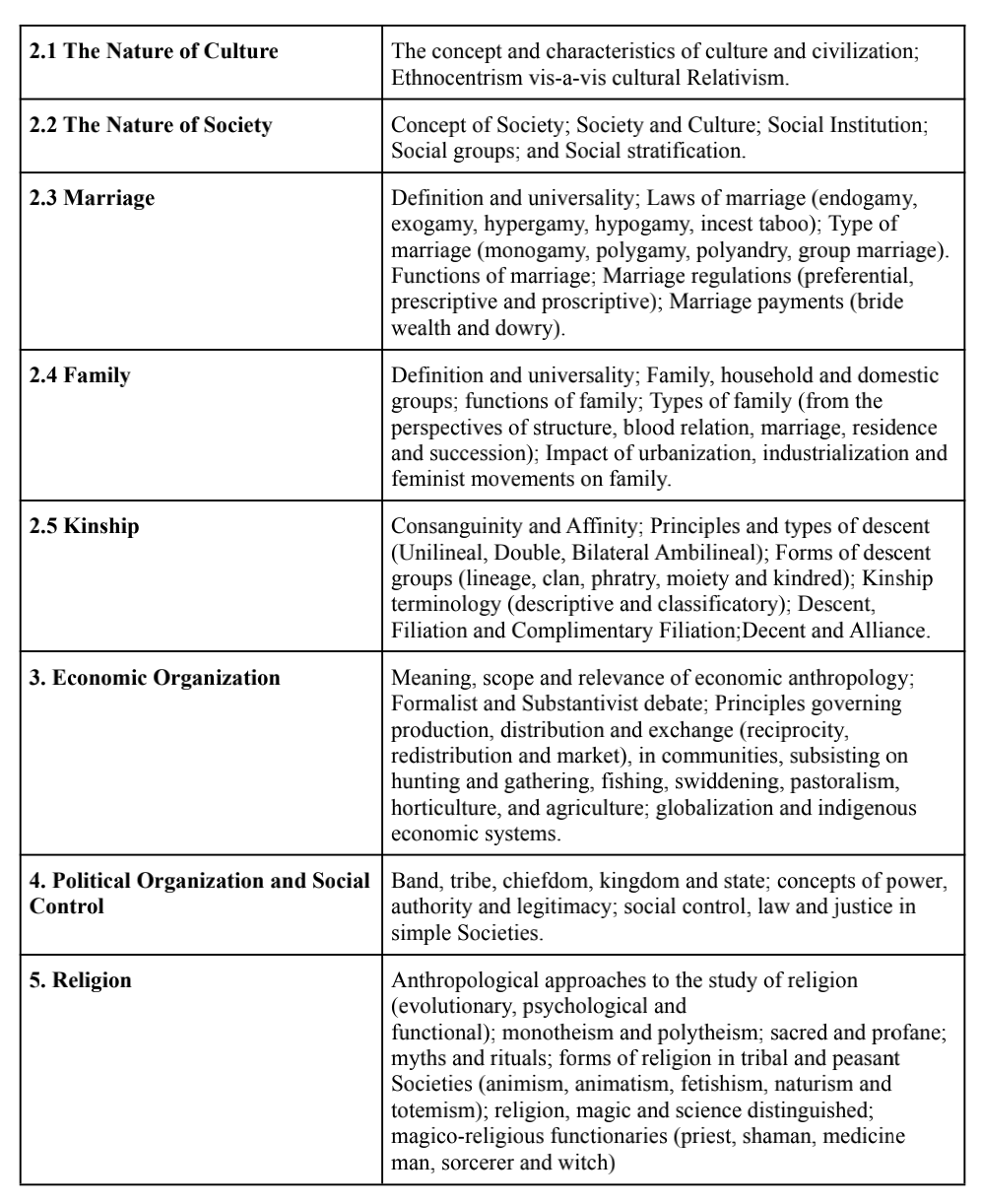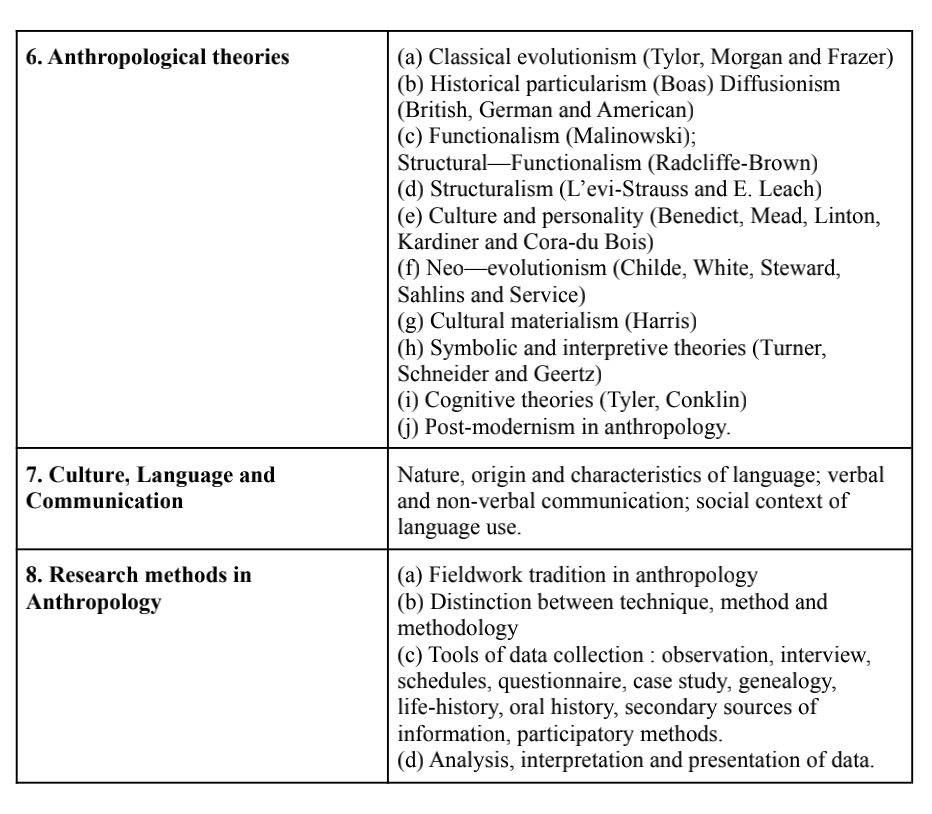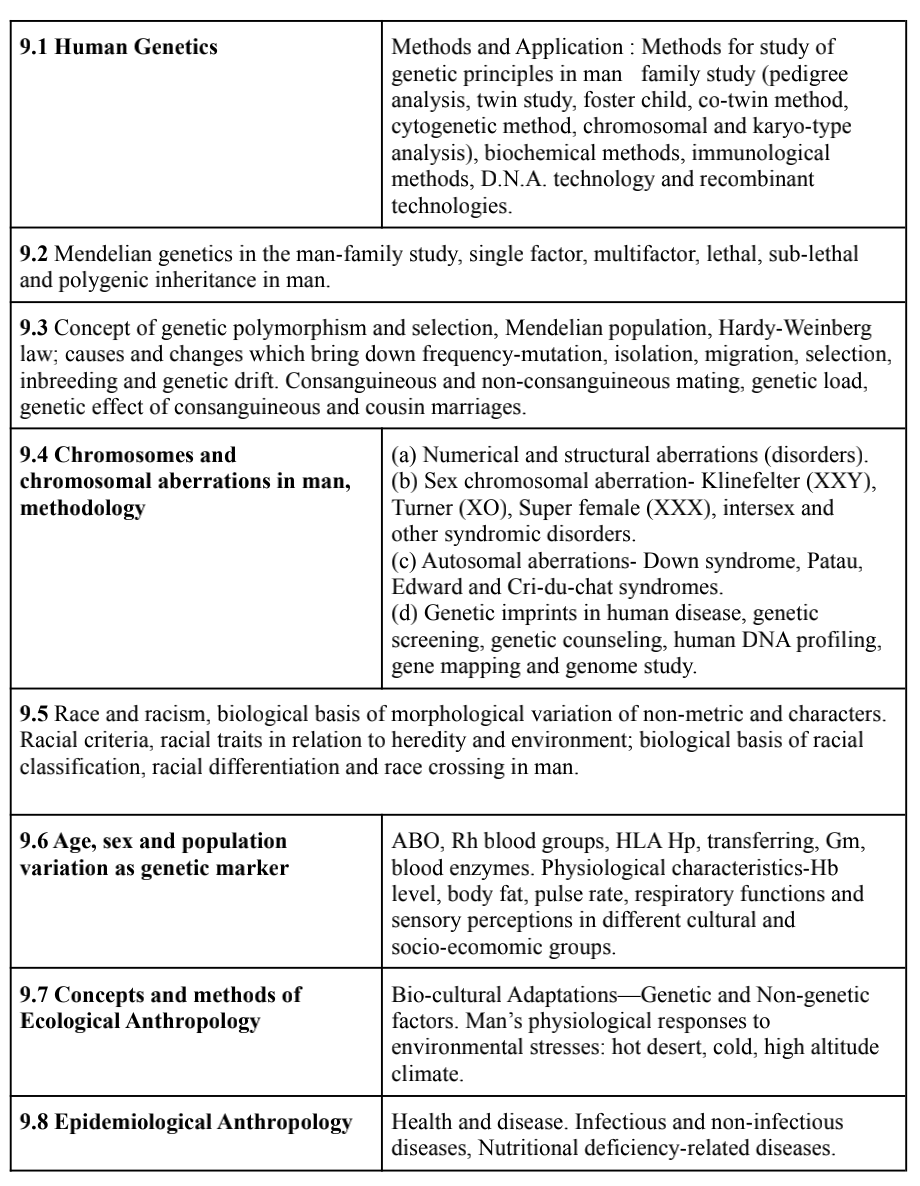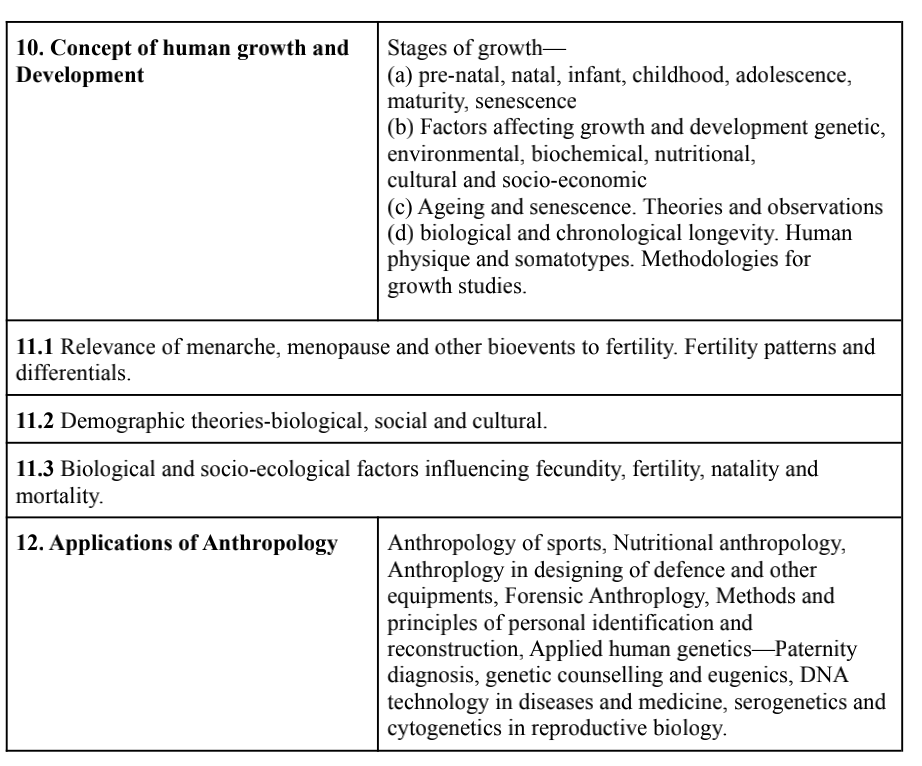 Anthropology Optional Syllabus for Paper 2
The Anthropology Optional Syllabus for Paper 2 has been divided into 9 units-
Evolution of Indian Culture & Civilization, Palaeo, Ethno-archaeology in India
Demographic Profile of India
Structure & Nature of Traditional Indian Social System, Caste System in India, Sacred Complex and Nature-Man-Spirit Complex, Impact of Buddhism, Jainism, Islam and Christianity of Indian society.
Emergence, growth and development in India
Indian Village, Linguistic and religious minorities and their social, political and economic status, Indigenous and exogenous processes of socio-cultural change in Indian society.
The tribal situation in India, Problems of the tribal Communities
Problems of exploitation and deprivation of SC, ST and OBC, Social change and contemporary tribal societies.
Tribe and nation-state, Impact of Hinduism, Buddhism, Christianity, Islam and other religions on tribal societies.
History of administration of tribal areas, Role of anthropology in tribal and rural development.
The complete Anthropology Syllabus for Paper 2 has been discussed in detail below.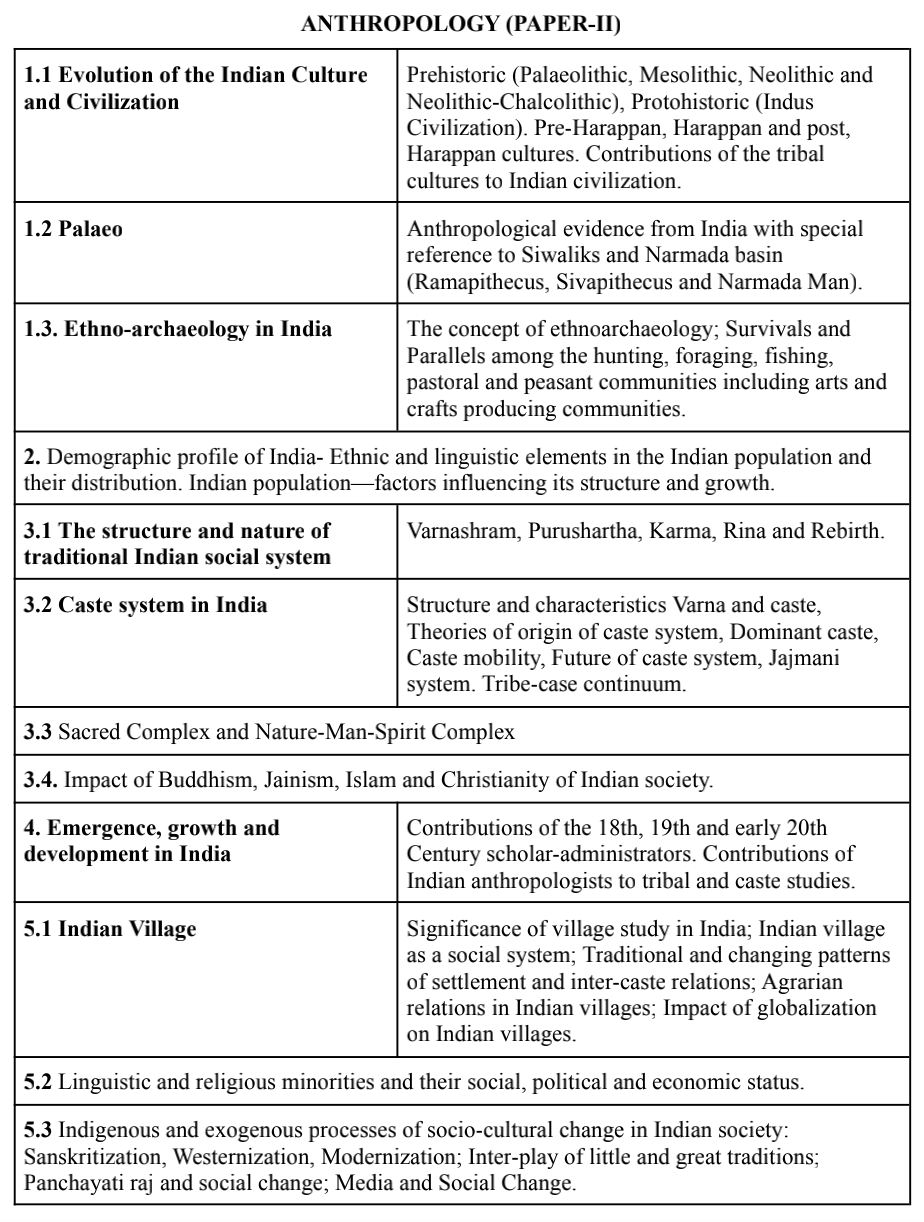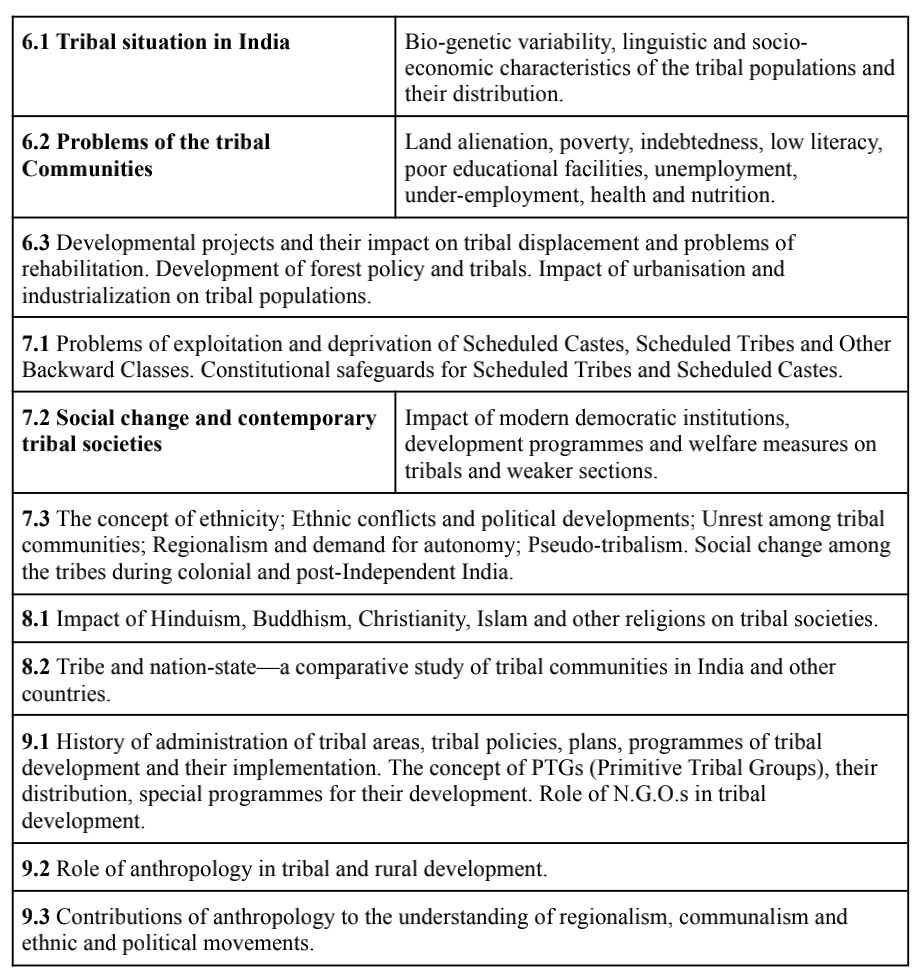 UPSC Syllabus for Mains & Optional Subject
UPSC Cut Off [Previous Year]- Click to Check
UPSC Anthropology Syllabus 2022: FAQs
Ans. No, as compared to other optional syllabus like Sociology, Geography for UPSC IAS Mains Exam, Anthropology Syllabus is short.
Ans. Yes, in Anthropology Optional Subject, the questions asked are generally direct and is considered scoring as compared to other core humanities subjects.
Ans. History is the study of the cause and effects of certain events whereas anthropology is a study of understanding the human condition both culturally and biologically.