List of Freedom Fighters of India: India on the 75th anniversary of Independence Day is celebrating this year Azadi ke Amrit Mahotsav commemorating the contribution of great freedom fighters of India. India got its independence on 15th August 1947, but it took a lot to reach this day. The greatest role in the freedom of India was played by our great heroes majorly Bhagat Singh, Mahatma Gandhi, Subhash Chandra Bose, Jawaharlal Nehru, Dr. Rajendra Prasad, Lala Lajpat Rai, Lal Bhadur Shashtri, and Bal Gangadhar Tilak to make this beautiful country a union of states. Besides these other Freedom Fighters and thousands of Indian patriots were also involved in freeing India from British Control. Read the complete article to know more about our Freedom Fighters of India, their contributions, and other details.
Freedom Fighters of India
After 1757, after the Battle of Plassey, the British lays the first step towards getting power in northern India, this cumulative effect of British expansion policies, and administrative innovation over an adversely affected section of society resulted in a burst in the form of a violent storm in 1857 i.e. The Revolt of 1857 which shook the British empire and laid the very foundation of India's independence.
The revolt movement of 1857 brought a lot of awareness among the sections of society, various socio-religious movements began, a number of legislative measures were opted to improve the condition of women in society such as the Bengal Regulations(1829) banning Sati, Bengal Regulations (1795,1804) declaring infanticide as illegal, Sarda act (Child marriage restraint act)1930, etc.
Thereafter series of movements and struggles took place to make India independent through the contribution of great freedom fighters. In the following article, we have discussed the Great Indian freedom fighters and their contributions.
Indian Freedom Fighters
There is no parameter to identify the top 10 Freedom Fighters of India. Every Freedom Fighter of India has played a major role to got freedom to the country and sacrificed their lives. Here, we are sharing the list of Indian freedom fighters and their massive contribution to the country's struggle for getting Independence for India after a lot of effort.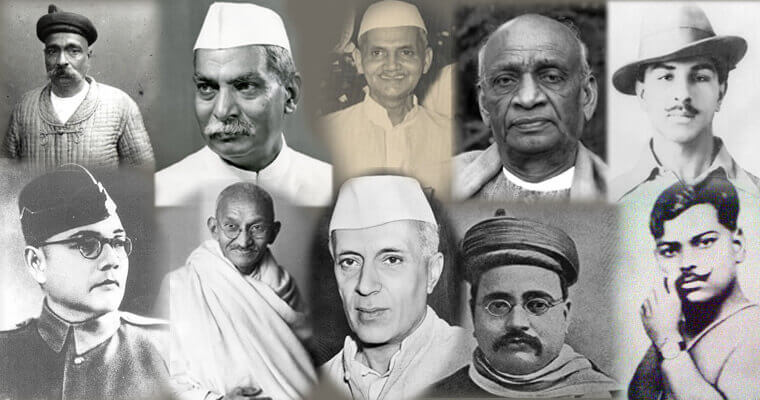 Indian Freedom Fighters Names
The most well-known Indian freedom fighters were Mahatma Gandhi, Bhagat Singh, Subhas Chandra Bose, Jawaharlal Nehru, Chandra Shekhar Azad, and a few others. The names of the most popular freedom fighters of India are mentioned below-
Bal Gangadhar Tilak
Dr. Rajendra Prasad
Dr. Lal Bhadur Shastri
Sardar Vallabhabhai Patel
Bhagat Singh
Subhas Chandra Bose
Mahatma Gandhi
Jawaharlal Nehru
Gopal Krishna Gokhale
Chandra Shekhar Azad
Dadabhai Naoroji
Tantia Tope
Bipin Chandra Pal
Lal Lajpat Rai
Ashfaqulla Khan
Nana Sahib
Sukhdev
Kunwar Singh
Mangal Pandey
V.D Savarkar
Freedom Fighters of India and their Contributions
Every Indian Freedom Fighter had his own contribution to making India a beautiful place to live. The below table gives a brief about the contribution of the most popular freedom fighters of India-
Freedom Fighter Name
Contributions and Roles
Bal Gangadhar Tilak
The Maker of Modern India, Swadeshi Movement
Dr.Rajendra Prasad
First President of the Republic of India
Lal Bahadur Shastri
White Revolution
Green Revolution
Second Prime Minister of India
Sardar Vallabhbhai Bhai Patel
Civil Disobedience Movement and Quit India Movement
Unification of India
Bhagat Singh
One of the Most Influential Revolutionary
Subhas Chandra Bose
World War II
Indian National Congress
Mahatma Gandhi
Father of the Nation,
Civil Rights Activist in South Africa,
Satyagraha,
Civil Disobedience Movement
Quit India Movement
Jawaharlal Nehru
First Prime Minister of India
Gopal Krishna Gokhale
Political guru of Mahatma Gandhi
Chandra Shekhar Azad
Reorganized the Hindustan Republican Association (HRA) under
formulatorsits new name of Hindustan Socialist Republican Association
Dadabhai Naoroji
Unofficial Ambassador of India
Tantia Tope
Indian Rebellion of 1857
Bipin Chandra Pal
Father of Revolutionary Thoughts
Swadeshi Movement
Lala Lajpat Rai
Punjab Kesari
Against Simon Commission
Ashfaqullah Khan
Member of Hindustan Republican Association
Nana Sahib
Indian Rebellion of 1857
Sukhdev
Chief of Punjab unit of HSRA(Hindustan Socialist Republican Association)
Kunwar Singh
Indian Rebellion of 1857
Mangal Pandey
Sepoy mutiny of the revolt of 1857
Vinayak Damodar Savarkar
Leading figures of Hindu Mahasabha and formulators of Hindu Nationalist Philosophy
Indian Freedom Fighters List
Know a brief about a few of the Freedom Fighters of India and their role and contributions to Indian freedom from Britain, which have been discussed in the below section.
Mahatma Gandhi
Mahatma Gandhi was born on 2nd October 1869 in Porbandar, Gujarat. He is famously revered as the Father of Nation. His birthday on 2nd October is commemorated in India as 'Gandhi Jayanti', a national holiday, and worldwide as the 'International Day of Non-Violence' (Antarrashtriya Ahimsa Diwas) according to the declaration of UNO. He was born to Karamchand Gandhi and Putali bai. Gopal Krishna Gokhale was his political guru. His famous works include Indian Opinion, Harijan, and Young India. He is called as 'BAPU' and 'GANDHIJI'.
Bal Gangadhar Tilak
Bal Gangadhar Tilak, who is also called Lokmanya, was a teacher, nationalist and activist. He is one of the LALBAL PAL TRIO. He was the first leader of the independence movement. He is titled "Lokmanya", which means "accepted by the people as their leader".He was called "The Maker of Modern India'' by Mahatma Gandhi. His Marathi quote: "Swaraj is my birthright and I shall have it!"is famous.
Dr. Rajendra Prasad
Rajendra Prasad (3 December 1884 – 28 February 1963) was an Indian politician, lawyer, activist, journalist & scholar who served as the first president of the Republic of India from 1950 to 1962. He was the supporter of Mahatma Gandhi; Prasad was jailed during Satyagraha of 1931 and the Quit India movement of 1942. Prasad served as Food and Agriculture Minister at the central level. Upon independence in 1947, Prasad was unanimously elected as the First President of India. Also called as "Ajatha Shatru" means a person with no enemies.
Lal Bahadur Shastri
Lal Bahadur Shastri (2 October 1904 – 11 January 1966) was an Indian politician and statesman who served as the 2nd Prime Minister and 6 th Home Minister of India. He promoted White Revolution – a national campaign to increase the production and supply of milk. Underlining the need to boost India's food production, Shastri also launched Green Revolution to increase food production, especially in the states of Punjab, Haryana and Uttar Pradesh.
Sardar Vallabhbhai Bhai Patel
Sardar Vallabhbhai Bhai Patel (31 October 1875 – 15 December 1950), commonly known as Sardar, was an Indian lawyer, influential political leader, barrister and statesman. Who served as the first Home Minister and First deputy minister of India. He is also called 'IRONMAN OF INDIA and UNIFIER OF INDIA'.
Bhagat Singh
Bhagat Singh (27 September 1907 – 23 March 1931) a charismatic revolutionary participated in the mistaken murder of a junior British police officer which was a form of retaliation for the death of an Indian nationalist. He later took part in a symbolic Central Legislative Assembly bombing case in Delhi and a hunger strike in jail, which resulted in sympathetic coverage in Indian-owned newspapers which turned him as a household name in the Punjab region.
Subhas Chandra Bose
Subhas Chandra Bose 23 January 1897 – 18 August 1945) was a nationalist. Netaji Subhas Chandra Bose was famously called as 'Netaji'. His supreme patriotism made the great hero of India. His famous slogan is 'Tum Mujhe Khoon Do, Main Tumhe Aazadi Dunga' and 'Delhi chalo'. He formed Azad Hind Fauj and made several contributions to India's freedom struggle, Known for his militant approach and socialist policy which he used to gain independence.
Jawaharlal Nehru
Pt. Nehru was born in Allahabad on 14 November 1889. He completed his early education at his home under private tutors. At the age of 15 he went to England at Harrow School. After 2 years he went to Cambridge for his further studies. At London, he completed his degree in law and became a barrister. In 1912 he returned to India and straight jumped into politics. He is known for his love and affection toward children. After his death, 14th November is celebrated as CHILDREN'S DAY marking his birth anniversary.
Gopal Krishna Gokhale
Gopal Krishna Gokhale, (May 9 1866-February 1915), was a social reformer who founded a sectarian organization to work for the relief of the underprivileged in India. He is among the moderate nationalists in the independence movement. Mahatma Gandhi's political guru was GL Gokhale.
Chandra Shekhar Azad
Chandra Shekhar Azad was one of the most important freedom fighters in the history of the Indian Independence Movement. After the death of its founder Ramprasad Bismil, Azad reorganized the Hindustan Republican Association (HRA). Born on July 23, 1906 to Pandit Sitaram Tiwari and Jagran Devi in the Bhavra village, in Madhya Pradesh. Azad's mother wanted him to be a Sanskrit scholar so she send him to Kashi Vidyapeeth for his education. He was attracted to ideas of independence and joined the non-cooperation movement launched by Mahatma Gandhi. At the age of 15, on being presented before the district magistrate, he was given the name Azad, his father as Swatantrata, his home as Jail.
Dadabhai Naoroji
Dadabhai Naoroji, (4 September 1825 – 30 June 1917) also known as the "Grand Old Man of India" and "Unofficial Ambassador of India", was an Indian political leader, writer, and scholar. He was a founding member of the Indian national congress and thrice president - 1886, 1893, and 1906. His theory of "wealth drain" got attention through his book Poverty and Un-British Rule in India.
Tantia Tope
Tantia Tope (also spelt Tatya Tope; 16 February 1814 – 18 April 1859) was a general in the Indian Rebellion of 1857 and a notable leader. Despite a lack of military training, he is considered to be one of the best and most effective rebel generals in the Indian struggle for independence. He was born in Yeola, (near Nasik). Tantia took the of title Tope which means commanding officer. His first name Tantia means General. He was the supporter of Nana Saheb of Bithur, he proceeded with the Gwalior contingent after the British reoccupied Kanpur (then known as Cawnpore). Tantia Tope along with Rani Lakshmibai of Jhansi seized the city of Gwalior. Later he was defeated by General Napier's.
Bipin Chandra Pal
On 7 November 1858, Bipin Chandra Pal also known as the 'Father of Revolutionary Thoughts in India' was born in Habiganj District, present-day Bangladesh. His family was a wealthy Hindu family. Pal's father was a Persian scholar. Lal, Bal and Aurobindo Ghosh inspired him a lot. He started spreading the idea of 'swaraj' to Indians. His famous book was 'Indian Nationalism', 'Swaraj and 'Nationality and Empire', 'The Basis of Social Reform', 'The New Spirit and Studies in Hinduism', and 'The Soul of India'.
Lala Lajpat Rai
Lala Lajpat Rai, popularly known as Punjab Kesari was a great author, freedom fighter and politician He was one of the three members of the Lal Bal Pal trio . His famous works include Arya Samaj, USA: A Hindu Impression, The story of my Deportation etc.
Ashfaqullah Khan
Ashfaqullah Khan was born on October 22, 1900, a freedom fighter who was sentenced to death in the Kakori train robbery along with Ram Prasad Bismil, for their role in the Kakori train robbery of 1925. He was also detained in the Faizabad jail. On April 1972 he was awarded death sentence.
Nana Saheb Peshwa II
Nana Saheb Peshwa II (19 May 1824 – 24 September 1859), also called as Dhondu Pant was a great fighter, aristocrat, and rebellion of the 1857 revolt. Nana Saheb was the adopted son of Maratha Peshwa II that's why he was denied pension by East India Company. The Standard policies of British led him to join the rebellion of 1857.
Sukhdev Thapar
Sukhdev Thapar was born in Ludhiana, Punjab, on 15 May 1907. His parents were Ramlal Thapar and Ralli Devi. He belongs to the Hindu Community of the Khatri family. After his father's death, he was brought up by his uncle. He worked as an Indian revolutionary who worked to make India independent along with Bhagat Singh and Shivaram Rajguru. He was among the senior member of HSRA, he was hanged on 23 March 1931 at the age of 23 by Britishers.
Kunwar Singh
Kunwar Singh (born: 13 November 1777 – died: 26 April 1858) is popularly known as Veer Kunwar Singh or Veer Babu Kunwar Singh. He belongs to Ujjainiya caln in the Bhojpur district of Bihar. He was the chief organizer of the fight against the British in Bihar.
Mangal Pandey
Mangal Pandey was a great Indian soldier who played a great role in the Rebellion of 1857. He belongs to the 34th Bengal Native Infant regiment. In 1984, a postage stamp was issued by the Indian government in his remembrance. He was the first Indian soldier whose attack on the British was the first major incident of what came to be known as Sepoy mutiny.
Vinayak Damodar Savarkar
Vinayak Damodar Savarkar ( 28 May 1883 – 26 February 1966) known among followers by the honorific prefix Veer, was an Indian politician, activist, and writer. He was a leading face of Hindu Mahasabha. Savarkar was an atheist but a pragmatic practitioner of Hindu philosophy. His book THE WAR OF INDEPENDENCE was banned by British colonial authorities.
Here, You read the top 20 Freedom Fighters of India and their contribution to the country. Along with the Indian men, Indian women had also contributed to Indian freedom. We have also created a separate article on women Indian fighters of India. The link for the same is given below.
Freedom Fighters of India- FAQs
Ans.Lala Lajpat Rai of Punjab, Bal Gangadhar Tilak of Maharashtra, and Bipin Chandra Pal of Bengal, the triumvirate were popularly known as Lal Bal Pal.
Ans. Sardar Vallabhbhai Patel, he served as first deputy prime minister of India.
Ans. Gopal Krishna Gokhale was the political guru of Mahatma Gandhi
Ans. Subhas Chandra Bose formed Indian National Academy in 1943.
Ans. Nathuram Godse killed Mahatma Gandhi on January 30, 1948
Ans. Bhagat Singh, Mahatma Gandhi, Subhash Chandra Bose, Jawaharlal Nehru, Dr. Rajendra Prasad, Lala Lajpat Rai, Lal Bhadur Shashtri, and Bal Gangadhar Tilak played major role in bringing Independence to India.