Women Freedom Fighters of India: As India is celebrating this year Azadi Ka Amrit Mahotsav commemorating the 75th year of independence, the history of the Indian Freedom Struggle would be incomplete without mentioning the contributions of many unsung Women Freedom Fighters of India. The contribution of women in the struggle for an Independent India cannot be overlooked. A lot of courageous women raised their voice against the British rule. Many women took to the streets, led processions and held lectures and demonstrations. These women possessed a lot of courage and intense patriotism.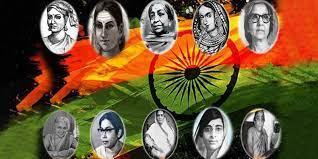 Women Freedom Fighters of India
The sacrifice made by the women of India has occupied the foremost place. They fought with true spirit and undaunted courage and faced various tortures, exploitations and hardships to earn us freedom. The entire history of the freedom movement is replete with the saga of bravery, sacrifice and political sagacity of hundreds and thousands of women in our country.
Woman's participation in India's freedom struggle began as early as 1817 when Bhima Bai Holkar fought bravely against the British colonel Malcolm and defeated him in guerilla warfare. Many women including Rani Channama of Kittur, and Rani Begam Hazrat Mahal of Avadh fought against the British East India Company in the 19th century,30 years before the "First War of Independence 1857". So in this article, we are discussing the Female or Women's Freedom Fighters of India who paled a major role in Indian history.
Top 15 Women Freedom Fighters of India
This article covers the following 15 women freedom fighters of India with their names, list, roles and contributions for the country-
Rani Lakshmi bai
Begum Hazrat Mahal
Kasturba Gandhi
Kamla Nehru
Vijay Laxmi Pandit
Sarojini Naidu
Aruna Asaf Ali
Madam Bhikaji Cama
Kamla Chattopadhyay
Sucheta Kriplani
Annie Besant
Kittur Chennamma
Savitribai Phule
Usha Mehta
Lakshmi Sahgal
Female Freedom Fighters of India & their Roles
The table below gives a brief description of the contribution of Women freedom fighters of India (Female)-
Freedom Fighters Name
Contribution and Role
Rani Lakshmi Bai
Leading women in the rebellion of 1857
Begum Hazrat Mahal
First female freedom fighter
Kasturba Gandhi
Quit India movement
Kamla Nehru
Non-cooperation Movement,
Protested against foresign liquors
Vijay Laxmi Pandit
First Indian women ambassador at UN.
Sarojini Naidu
First Indian woman who acted as governor (UP)
Aruna Asaf Ali
Inquilab (Monthly journal)
Madam Bhikaji Cama
First Indian to hoist the Indian Non-cooperation flag on foreign soil,
Mother India's first cultural representative of USA'
Kamla Chattopadhyay
The first woman to be elected for a legislative seat in India(madras province)
Sucheta Kriplani
First women Chief minister (UP)
Annie Besant
First woman president of INC, Home rule league.
Kittur Chennamma
First female ruler to rebel against the British
Savitribai Phule
First lady teacher in India
Usha Mehta
Organized Congress Radio popularly the Secret Congress Radio
Lakshmi Sahgal
India Democratic Women Association(IDWA)(1981 )
Female Freedom Fighters of India
The summary of Female Freedom Fighters of India is already discussed above. If you want to complete information about the Indian women freedom fighters, read the complete article. Here, we have discussed the all-female or women freedom fighters of India in detail.
1. Rani Laxmi Bai
No other woman warrior in the history of India has made such a powerful impact on the minds of the Indian people as the Rani of Jhansi, Lakshmi Bai. She was the second wife of the ruler of Jhansi Raja Gangadhar Rao who protested against the 'Doctrine of Lapse'. She refused to surrender Jhansi and fought bravely attired as a male during the Revolt of 1857 and died on the battlefield fighting the British forces. Her courage inspired many Indians to rise against the alien rule.
2. Begum Hazrat Mahal
Another woman whom we remember in this context was Hazrat Mahal Begum. She was the wife of the deposed ruler of Lucknow who actively took part in the revolt of 1857 against the Doctrine of Lapse under which Dalhousie wanted her to surrender Lucknow. She gave stiff resistance. But after the fall of Lucknow, she escaped to Kathmandu.
3. Kasturba Gandhi
Kasturba, the wife of Mahatma Gandhi, was one of the foremost supporters of Gandhi's programs. One of the first women to be imprisoned in Transvaal, she took part in the Quit India Movement (1942) and was arrested. She died while imprisoned in Poona.
4. Kamla Nehru
Kamala Nehru, who married Jawaharlal Nehru in 1916, participated in various movements, and led the Civil Disobedience Movement. She played a prominent part in organizing the No Tax Campaign in the United Provinces (Now Uttar Pradesh).
5. Vijay Laxmi Pandit
Jawaharlal Nehru's sister Vijay Laxmi Pandit entered the Non- Cooperation Movement. She was imprisoned thrice in connection with the Civil Disobedience Movement in 1932, 1941 and 1942. In 1937 she was elected to the provincial legislature of the United Provinces and was designated minister of local self-government and public health. She played an important role as India's representative in San Francisco during the first meeting of the UN where she challenged the might of the British. She was the first woman to become the President of the United Nations General Assembly.
6. Sarojini Naidu
Sarojini Naidu holds pride of place among women freedom fighters of India. She was responsible for awakening the women of India. She was the first Indian woman president of the Indian National Congress in 1925 at the Kanpur Session. In 1928, she came to the USA with the message of the nonviolence movement from Gandhiji. When in 1930, Gandhi was arrested for a protest, Sarojini took the helm of his movement. In 1931, she participated in the Round Table Summit, along with Gandhiji and Pundit Malavyaji. She was also the acting President of Congress in 1932. In 1942, she was arrested during the 'Quit India' protest and stayed in jail for 21 months. She was a gifted poet of the English language and was popularly known as the Nightingale of India. After independence, she became the first ever woman Governor of an Indian State (Uttar Pradesh).
7. Aruna Asaf Ali
Aruna Asaf Ali played a leading role during the Quit Indian Movement. Her moment of reckoning came in 1942 during the Quit India Movement and she rose to occasion. She unfurled the National Flag at the Gowalia Tank maidan in Bombay to signify the commencement of the Quit India Movement and became a legend for thousands of youth that rose to emulate her. She became a full-time activist in Quit India movement. Movement and went underground to evade arrest. She edited 'Inquilab' a monthly journal of the Indian National Congress. She was awarded India's highest civilian award, the Bharat Ratna.
8. Madam Bhikaji Cama
Madam Bhikaji Cama was influenced by Dadabhai Naoroji and was a source of inspiration for Indian youth in the UK. She unfurled the first National Flag at the International Socialist Conference in Stuttgart (Germany) in 1907, organized Free India Society and began the journal 'Bande Mataram' to spread her revolutionary thought. She travelled a lot and spoke to people about Indians Struggling for Independence. She could aptly be called "Mother India's first cultural representative of USA".
9. Kamladevi Chattopadhyay
Smt. Kamaladevi Chattopadhyay was elected President of the Youth Congress in December 1929 and appealed to the National Congress leaders to declare Poorna Swaraj as their goal. On January 26, 1930, Kamaladevi captured the imagination of the entire nation when in a scuffle, she clung to the Tricolor in order to protect it. Blows rained on her as she stood like a rock to protect the flag, bleeding profusely. She galvanized the All India Women's Conference into a dynamic movement. Besides the hundreds and thousands of Indian women who dedicated their lives for India's freedom, there were many foreign women who saw in India a hope for the redemption of the world.
10. Sucheta Kriplani
Sucheta Kriplani was an ardent nationalist with a socialistic orientation. She was a close associate of Jai Prakash Narayana who actively participated in the Quit India Movement. This St Stephen's educated politician sang Vande Mataram in the independence session of the Constituent Assembly on August 15, 1947. She was a member of the Constituent Assembly in 1946. She was general secretary of the Indian National Congress from 1958 to 1960, and Chief Minister of Uttar Pradesh from 1963 to 1967.
11. Annie Besant
Annie Besan was born in Annie Wood (Ireland) on 1 October 1847. She was one of the renowned political activists, freedom fighters and a champion of the anti-Church movement and women's rights.
Annie Besant became a member of the National Secular Society in the 1870s and the Fabian Society championed freedom of thought and liberation from the tyranny of the Catholic Church in England. Being socialist and having spiritual solace led her to join the Theosophical Society in 1889. With the objective of evangelization the ideals of the Theosophical Society she came India in 1893. After landing in India she was inspired by the ongoing struggle for freedom against British rule and gradually became an active participant.
In 1916 she founded HOME RULE LEAGUE along with Bal Gangadhar Tilak and carried on this historic movement with the aim of attaining the Dominion of India. Her contribution led her to be elected as the FIRST WOMAN PRESIDENT OF INDIA NATIONAL CONGRESS in 1917. She died in India on 20 September 1933. Throughout her life she was a brave and strong woman's personality
12. Kittur Chennamma
Rani Chennamma was born in Karnataka a small village kakati in 1778 that is almost 56 years early to Rani Lakshmi Bai of Jhansi. At a very young age she started training in horse riding, sword fighting and archery. At the age of 15 she got married to Mallasarja Desai. Rani was not able to win the war against the British but still she is remembered for many centuries in the world of history. She was revered as an icon of bravery in Karnataka.
As Rani Kittur lost his son due to the Doctrine of Lapse imposed in her region. She fearlessly fought against the British but this humiliation was not swallowed by the British due to which Rani negotiated with Chaplin and the Governor of Bombay Presidency under whose regime Kittur fell but this not had any effect. She was compelled to declare war. For 12 days, the valor Queen and her soldiers defended their fort, but The Rani was defeated (1824 CE). She was imprisoned and was kept in the fort of Bailhongal for life. She spent her further days reading holy texts and performing pooja till her death in 1829 CE
13. Savitribai Phule
Savitribai Jyoti Rao Phule born on 3 January 1831. She was one of the prominent reformers, educationalists and poets who belonged to Maharashtra. Savitribai Phule was married to Jyoti Rao Phule who was a great thinker, activist, and caste social reformer. Along with her husband she played a pivotal role in improving women's rights in India. Savitribai along with her husband founded the first modern Indian girl's school in Pune. She is also regarded as the 'FIRST FEMALE TEACHER OF INDIA'.
14. Usha Mehta
Usha Mehta was born on 25th March 1920 and belonged to the state of Gujarat from a very small village of saras. At a very young age, she was regarded as one of the active participants in the fight against the Britishers. At the age of 8, she took part in her first protest which was against Simon Commission. She is remembered for organizing Secret Congress Radio. She also took part in Quit India Movement. She was conferred with India's second highest civilian award Padma Vibhushan.
15. Lakshmi Sahgal
Lakshmi Sahgal was born on 24 October 1914. She is an officer of the Indian National Army and Women's Affairs Minister in the Azad Hind government. Also commonly regarded as Captain. She completed her studies in medicine. She is regarded as the organizer of relief camps and medical aid in Calcutta for refugees of Bangladesh. She is among the founding members of the India Democratic Women's Association.
We hope, you have completely read this article. We have also published an article on Freedom Fighters of India including men and women, the link for the same is provided below.
Women Freedom Fighters of India- FAQ's
Ans. Sucheta Kriplani was the first chief minister in India. She became the first CM of Uttar Pradesh state.
Ans. Begum Hazrat Mahal, or 'Begum of Awadh', was one of India's first female freedom fighters, leading the battle in the First Indian War of Independence in 1857.
Ans. Sarojini Naidu is the first women governor of India. She became the first governor of Uttar Pradesh.
Ans. Vijaylakshmi Pandit is the first women ambassador at UN.
Ans. Sarojini Naidu was the Indian women of Indian National Congress.
Annie Besant was the first woman President of Indian National Congress (INC). She presided over the 1917 Calcutta session of the Indian National Congress.