Digital Marketing
Digital marketing has become an essential aspect of marketing in the Indian market. As more and more people have access to the internet and are spending more time online, businesses need to have a strong digital presence to reach their target audience effectively.
Benefits of Digital Marketing Course
A digital marketing course can be highly beneficial for individuals and businesses in India. Here are some reasons why:
Increased demand for digital marketers: The demand for digital marketers in India is growing rapidly, and there is a shortage of skilled professionals in this field. Completing a digital marketing course can help individuals develop the necessary skills to pursue a career in this field.
Cost-effective Marketing: Digital marketing is more cost effective than traditional marketing methods. By learning how to use digital marketing channels effectively, businesses can reach a larger audience with less money.
Targeted Marketing: Digital marketing allows businesses to target their ideal customer more precisely. By using data analytics and other tools, businesses can create targeted marketing campaigns that are more likely to convert.
Measurable Results: Digital marketing provides measurable results, which makes it easier for businesses to evaluate the success of their campaigns and make data-driven decisions.
Flexibility and Adaptability: Digital marketing is continually evolving, and businesses need to be able to adapt to changes quickly. By taking a digital marketing course, individuals can stay up-to-date with the latest trends and technologies in this field.
Overall, digital marketing courses can be highly beneficial for individuals and businesses in the Indian market. For the learners of this skill, digital marketing expertise can help them get good salary package jobs with experience along with flexible working hours. To add on, this skill can help people build their own personal brand through blogging or content creation.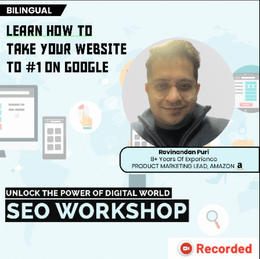 Best Digital Marketing Course
There are many excellent digital marketing courses available online, so it can be challenging to pick the "best" one. However, here are some popular options that are well-regarded:
Digital Marketing Online Course by Adda247: This comprehensive course covers topics such as pay-per-click advertising (PPC), social media marketing, search engine optimization (SEO), and content marketing. It also includes a capstone project where you apply what you've learned to a real-world marketing challenge. The "best digital marketing course" for you will depend on your goals, budget, and learning style.