RNA, the abbreviation of RiboNucleic Acid is a complex compound of high molecular weight that helps in protein synthesis in our body and the production of new cells in the human body. RNA almost resembles the structure of DNA except that it is single-stranded whereas the latter is double-stranded. RNA contains only a single Ribose sugar and it also acts as an enzyme that helps in various chemical reactions in our body. RNA is the most important topic which is not only covered in classes 10 and 12 but also in the major entrance exams such as NEET 2024. Students can go through this article and read thoroughly on the structure, function and types of RNA to confront a question that can be asked in their exams.
RNA -Definition and Diagram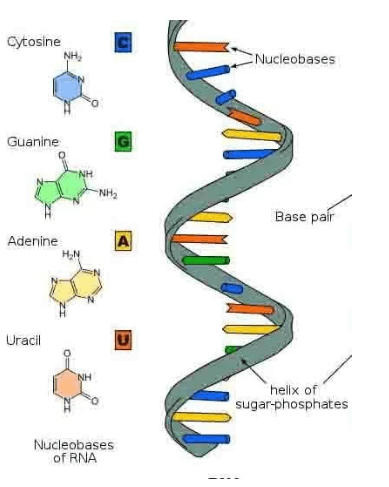 RNA or Ribo Nucleic Acid is a single-stranded, single helix and large molecular weight compound which are involved in the process of protein synthesis. RNA is composed of Ribose nucleotides, which are nitrogenous bases appended to ribose sugar that are attached by phosphodiester bonds. It acts as the major genetic material of almost all the viruses. RNA Most viruses have only single-stranded RNA, it is rare that some viruses have double-stranded RNA. Rhinoviruses, influenza viruses, coronaviruses, and Ebola viruses are single-stranded RNA viruses while Rotaviruses and retro-viruses are double-stranded RNA viruses.
Structure of RNA
RNA resembles the shape of a hairpin, which is a single-helical structure and single-stranded biopolymer, whereas DNA is a double-helical structure. Similar to Nucleotides in the DNA, nucleotides are also formed in RNA. RNA is short in structure and contains only one strand with ribose nucleotides attached by a phosphodiester bond.
A Ribonucleotide comprises of:
Nitrogenous bases

Ribose sugar and

A phosphate group
Nitrogenous Bases
RNA comprises the four nitrogen bases which are Adenine(A), Uracil(U), Cytosine(C)and Guanine(G).
This is the major difference between the DNA and RNA molecule, wherein instead of Thyamine, uracil is present.
The nitrogenous bases such as Adenine and Guanine are the major building blocks in both the nucleic acids.
Ribose Sugar
A cyclic structure comprising five carbon rings and one oxygen. Another difference between RNA and DNA is RNA has a hydroxyl (-OH) group attached to the second carbon, which may be prone to hydrolysis. Hence it is unstable genetic material, that can get hydrolyzed.
Whereas, DNA lacks the hydroxyl group (-OH) hence it has stability and can carry genetic information from one organism to another.
Phosphate group
The phosphate group is the most important, and acts as the backbone for RNA strands as well as DNA strands,
The phosphate group of both DNA and RNA is similar which has a phosphorous atom bonded to three single bonded and one double bonded.
Functions of RNA
RNA is a vital nucleic acid of almost all living organisms including plants, animals, viruses and bacteria. They are involved in the catalysis of all the biochemical reactions. they are also involved in various cellular reactions. They also function as structural molecules in most of the cell organelles. The Major functions of RNA include:
Facilitation of the translation process, in which DNA gets converted to proteins.
They play a major role in protein synthesis and acts as an adaptor molecule.
RNA acts as a messenger between the DNA and the ribosomes.
They are the carriers of genetic information in each and every cell of all living organisms
Promotes the ribosomes to choose the right amino acid which is required in building up of new proteins in the body.
RNA also helps in the catalysis of some biological reactions and controls genetic expression.
Types of RNA
There are three main types of RNA in the human body which are discussed in detail below:
Messenger RNA or mRNA
Ribosomal RNA or rRNA
Transfer RNA or tRNA
Messenger RNA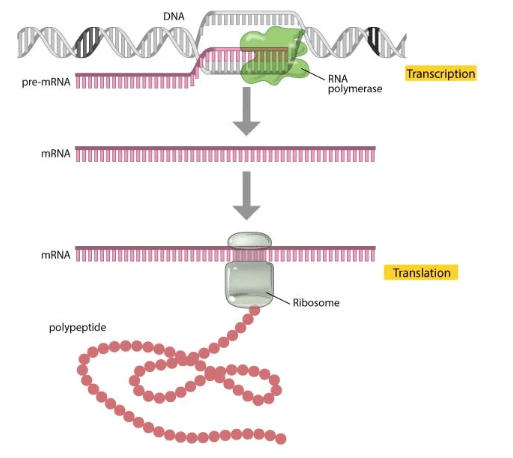 Messenger RNA is a heterogeneous type of RNA in terms of base sequence and size.
It is short-lived, unstable RNA found especially in almost all prokaryotic cells.
Messenger RNA or mRNA carries all genetic information from DNA that controls all cellular activities. It is also involved in the synthesis of proteins required by body cells and interacts with ribosomes for the translation process.
A series of three nitrogenous bases of the mRNA determines the amino acid sequence in the protein that is produced.
Function
The main function of mRNA is protein synthesis, which acts as a intermediate molecule between DNA and protein, used by ribosomes.
Ribosomal RNA (rRNA)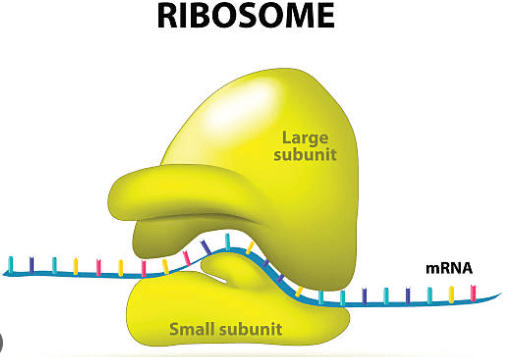 rRNA or Ribosomal RNA is the major component of ribosomes that occupies 60% of the mass of the ribosome and is present in the cytoplasm where ribosomes are located.
The rRNA which is encoded differs in size in which each ribosome has one large rRNA and one small rRNA.
Function
Synthesis and translation of mRNA into proteins that occur in the cell cytoplasm and transporting them to the nucleolus.
It also acts as a catalyst in the peptidyl transferase reaction during protein synthesis, which is another function
Transfer RNA (tRNA):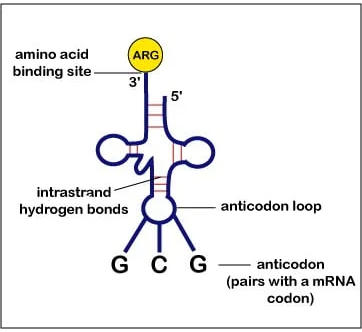 Transfer RNA or tRNA is the smallest RNA that plays an important role in protein translation process.
The tRNA is like a cloverleaf structure which is stabilized by a hydrogen bond within the nucleotides.
Apart from the four usual nitrogenous bases but also contains some unusual bases like methyl guanine and methylcytosine. These both are formed by the methylation of the usual bases.
Function
rRNA acts as an adaptor molecule in the mRNA sequence during the process of protein translation. It also helps in transferring of correct amino acid to the site of protein synthesis.
Since any mutation in the sequence of rRNA and tRNA can lead to lethal mutagenesis, both are vital for the synthesis of proteins in a proper way.