NEET Exam Date 2024 Out: The National Testing Agency (NTA) has announced May 5, 2024 is the NEET Exam Date 2024 for the academic year 2024. As per the official schedule released on the official website at www.nta.ac.in. The NTA authorities have confirmed the NEET 2024 Exam Date and in case of any changes or updates, the same will be reflected in this article. Aspirants are advised to bookmark this page and strategize their preparations to achieve higher in the NEET 2024 Exam. The exam will be conducted in a pen-and-paper format in 13 languages: English, Hindi, Assamese, Bengali, Gujarati, Kannada, Malayalam, Marathi, Odia, Punjabi, Tamil, Telugu, and Urdu.
NEET Exam Date 2024 Out
Like every year, the National Testing Agency is going to conduct the NEET UG 2024 exam for the candidates willing to pursue various UG medical and dental courses from the government-funded institutes of the nation. More than fifteen lakh aspirants take the NEET Test every year. May 5, 2024 is the NEET 2024 Exam Date. The NEET 2024 exam will be conducted offline in pen-paper mode for a duration of 3 hours and 20 minutes and the admit card download link for NTA NEET (UG) exam will be active in the 1st week of May 2024. The recruitment process for the NEET 2024 will begin soon with the release of its official notification and online application form. All the aspirants who are willing to appear for the given exam are advised to fill out the NEET UG Application form before the due date.
NEET UG Exam Date 2024
NTA will be conducting the NEET UG offline exam to grant admissions into medical, dental, nursing, and AYUSH courses to interested students on the schedule. NTA will release the information brochure notifying the NEET Exam Date 2024 on the official website, www.neet.nta.nic.in along with the NEET 2024 exam application form.
NEET UG Exam Date 2024
Particulars
Details
Exam Conducting Body
National Testing Agency (NTA)
Courses offered
Medical, Dental, Nursing, AYUSH
Category
Exam Date
Mode of Exam
Pen and Paper/OMR
NEET Exam Date 2024
May 5, 2024 (Sunday)
Exam Duration
3 hours 20 minutes
Official website
www.neet.nta.nic.in
NEET UG 2024 Exam Date Notice
As National Testing Agency (NTA) has released the NTA Exam Calendar 2024 for the academic year 2024 along with the exam dates for a few national-level exams. NEET Exam Date 2024 is also officially announced as per the NTA Annual Calendar 2024, NEET 2024 Exam will be conducted on May 5, 2024 in the Pen-Paper/OMR mode. Check the official notice for the exam dates attached below.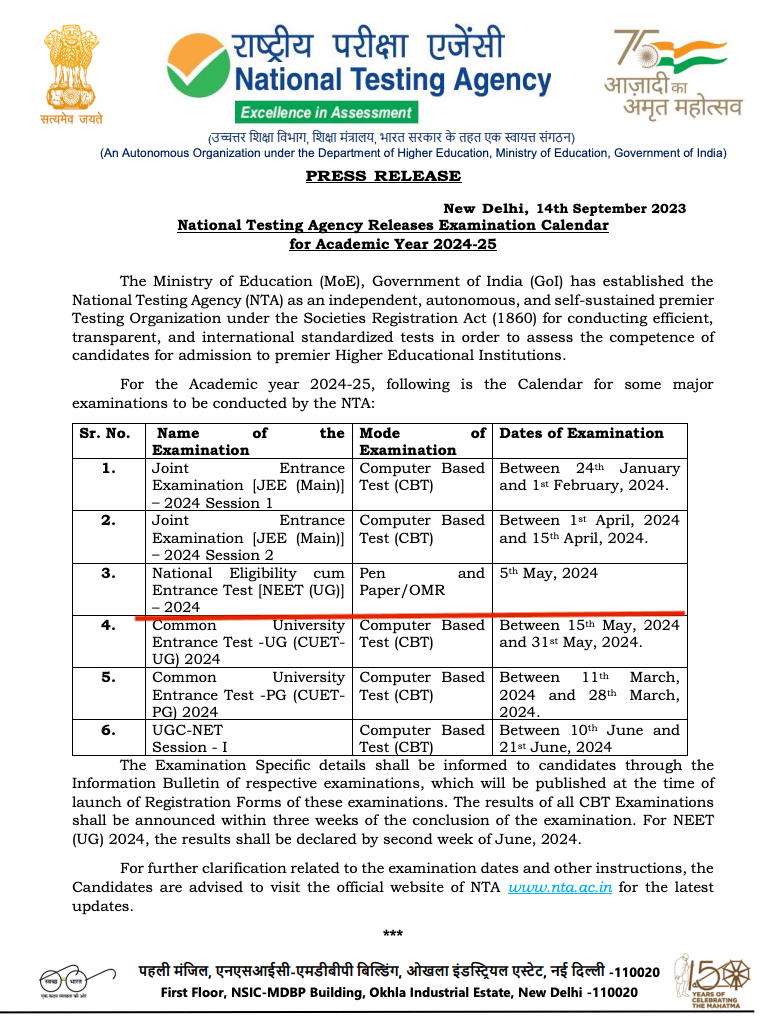 NTA NEET UG 2024 Exam Timing
The NEET UG exam will be conducted in a single shift only. The NEET Exam 2024 Timing are from 2 pm to 5:20 pm. Candidates will be required to arrive early at the exam centres as the formalities to enter the examination hall may take some time. The last entry permitted to the NEET exam centre will be at 1:30 pm and no candidates shall be allowed to enter the exam hall post that.
NEET Exam Date 2024 Timings
Events
Dates/Time
NEET Exam Date 2024
05 May 2024 (Sunday)
Duration of NEET 2024 exam
2:00 pm to 5:20 pm (3 hours 20 minutes)
Sitting in the examination room
1:15 pm
Last entry in the examination hall as per the NEET timing
1:30 pm
Announcement of important Instructions and checking of admit cards by the invigilator
1:30 to 1:45 pm
Distribution of the test booklet
1:45 pm
Writing of particulars on the test booklet by the candidates
1:50 pm
Starting time of NEET examination
2 pm
NEET UG 2024 concludes
5:20 pm
NEET UG Exam Statistics
The NEET 2024 Exam Date has been announced for the current academic session 2024. The number of candidates registered this year will be specified once the online registration is over. Last year more than 20 lakh candidates applied the the NEET exam, which was the highest in the last 6 years. Have a look at the previous year's trends of the NEET Exam Date tabularized below.
Year Wise NEET Exam Date and Candidates
Year
NEET exam date
No. of candidates Registered
2024
5th May 2024
—
2023
7th May 2023
2,08,7462
2022
17th July 2022
1,872,343
2021
12th September 2021
1,614,777
2020
13th September 2020
1,597,435
2019
5th May 2019
1.519,375
2018
6th May 2018
1,326,725
NEET Marking Scheme 2024
National Testing Agency follows a standardized marking pattern for NEET 2024. The NEET exam comprises 180 multiple-choice questions, with 45 questions each from Physics, Chemistry, Botany, and Zoology. Correct answers are awarded four marks, while an incorrect response leads to a deduction of one mark, reflecting a system of negative markings. Unanswered questions receive no marks.
The NEET marking scheme for 2024 is as follows:
Each question carries 4 marks.
There is a negative marking for incorrect answers.
1 mark is deducted for each incorrect answer.
There is no negative marking for unattempted questions.
NEET Exam Pattern 2024
For the session 2024, NTA has designed and made no changes in the NEET Exam Pattern. There are about a total of 200 multiple-choice questions, from which candidates must answer about 180 MCQs.
NEET Exam Pattern 2024
Subject
 Number of Questions
Physics
50
Chemistry
50
Botany
50
Zoology
50
All the questions in the NEET exam are compulsory.
There is no negative marking for unattempted questions.
The NEET exam is conducted in English, Hindi, and other regional languages.
Preparation Tips For NEET 2024
The students must remember, that consistency is key, and starting their preparation early will give them ample time to cover all topics thoroughly. Here we have discussed a few points that will highlight the preparation tips for the NEET 2024 Examination.
Understand the Syllabus: Familiarize yourself with the NEET Syllabus to know what topics to focus on.
Create a Study Schedule: Plan a realistic study schedule that covers all subjects. Allocate time based on your strengths and weaknesses.
Qualify Study Material: Use recommended textbooks and study materials. NCERT books are crucial for Biology, and additional reference books can be helpful for Physics and Chemistry.
Practice Regularly: Solve sample papers, and previous year's question papers, and take mock tests to improve time management and enhance problem-solving skills.
Conceptual Understanding: Focus on understanding concepts rather than rote memorization. This approach will help in answering application-based questions.
Biology Emphasis: Since a significant portion of NEET is dedicated to Biology, pay extra attention to this subject. Understand diagrams, processes, and terminologies thoroughly.
Revise Regularly: Regular revision is key to rating information. Create concise notes and revise them consistently.
Stay Updated: Keep track of updates or changes in the NEET Exam pattern and syllabus. Stay informed about important dates and guidelines.
Stay Positive: Stay motivated and maintain a positive mindset. The students must break down their goals into smaller tasks, celebrate achievements, and learn from setbacks.
Simulate Exam Conditions: Practice under exam-like conditions to familiarize themself with the actual test environment. This includes time management and maintaining composure under pressure.