Predation is when one organism hunts, kills, and eats another for food. It's like a lion hunting a deer for a meal. Parasitism, on the other hand, is a relationship where one organism (the parasite) lives on or inside another organism (the host) and benefits at the host's expense, without necessarily killing it, like ticks on a dog. We have discussed a few differences between predation and parasitism below in the article.
Predation and Parasitism
Both Predation and Parasitism are common ecological interactions and play important roles in shaping ecosystems. Predation is a biological interaction where one organism, the predator, hunts, kills, and consumes another organism, the prey, for food. Parasitism, on the other hand, is a relationship in which one organism, the parasite, lives in or on another organism, the host, and derives its nourishment from the host.
What is Predation?
Predation is the act of one organism, known as the predator, hunting, capturing, and feeding on another organism, known as the prey. This interaction is a fundamental ecological process and a mechanism of natural selection, shaping the structure and behavior of ecosystems. Predators of ecosystems. Predators can be animals, birds, insects, or even plants, and they rely on predation to obtain nutrients and energy for their survival, while prey organisms have evolved various defenses and behaviors to avoid being captured. In simple terms, predation is when one animal hunts and eats another animal for food. It's a natural way for animals to survive by finding the food they need to live.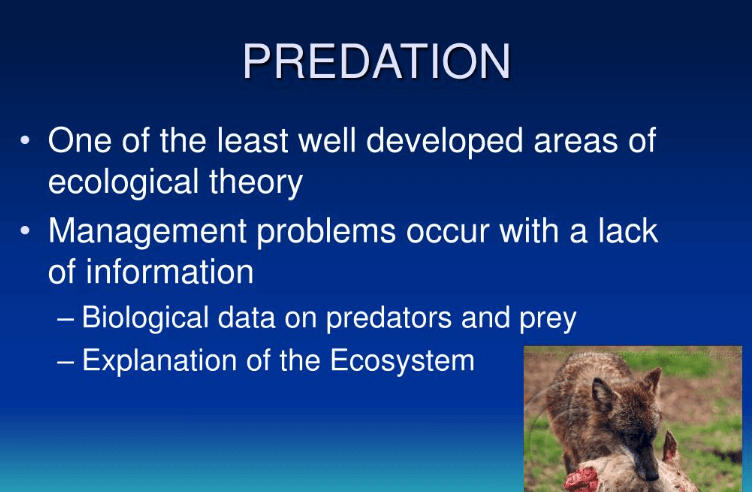 What is Parasitism?
Parasitism is a symbiotic relationship between two organisms where one organism, called the parasite, benefits at the expense of the other organism, called the Host. The parasite derives nourishment and other benefits from the host, often harming it in the process. Parasites can be found in various forms, including bacteria, viruses, fungi, plants, and animals. This relationship is different from mutualism, where both organisms benefit, and from commensalism, where one organism benefits without one organism benefits without affecting the other significantly. Parasitism is a common ecological interaction observed in nature.
Difference Between Predation and Parasitism
Predation and Parasitism are both ecological interactions involving one organism benefiting at the expense of another, but they differ in the nature of the relationship and the way organisms interact. Predation involves the direct killing and consumption of one organism by another, while parasitism involves a long-term relationship where the parasite benefits from the host without necessarily causing immediate death.
Difference Between Predation and Parasitism 
Aspect
Predation
Parasitism
Nature of Interaction
Predators actively kill and consume prey.
Parasites live on or inside the host, feeding off it.
Role of Organisms
Predators hunt and kill for immediate food.
Parasites rely on the host for nourishment over time.
Outcome for Prey/Host
Prey is killed for consumption.
The host may suffer but is not always killed instantly.
Dependency
Predators are not dependent on a single prey.
Parasites are highly dependent on their specific hosts.
Duration of Interaction
Short-term, involving immediate consumption.
Long-term, often involving a prolonged relationship.
Example
Lion hunting and eating a gazelle.
Tick feeding on a dog's blood over an extended period.
Harm to Host
Predators cause immediate harm, leading to death.
Parasites can harm hosts over time without immediate death.
Purpose of Interaction
Obtain food for sustenance.
Extract nutrients and reproduce at the host's expense.
Predator/Parasite Population
Predators are usually fewer in number, and often larger in size.
Parasites can exist in large numbers, usually smaller in size.
Adaptations
Predators have adaptations for hunting and capturing prey.
Parasites have specialized adaptations for attaching to hosts and obtaining nutrients.
Similarities of Predation and Parasitism
Predation and Parasitism are crucial ecological interactions that shape ecosystems in several ways. Predation and Parasitism are vital for maintaining ecological balance, promoting biodiversity, and driving evolutionary processes within ecosystems.
Population Control: Predators help control prey populations, preventing overpopulation which can lead to depletion of resources and disrupt the balance of the ecosystem. Similarly, parasites regulate the population of their hosts.
Biodiversity: Predation and parasitism contribute to biodiversity by influencing species composition and distribution. They prevent one species from dominating an ecosystem, promoting diversity.
Evolutionary Pressure: Predation and parasitism exert selective pressure on prey and host species, driving adaptations. This leads to the evolution of defense mechanisms in prey and counter-strategies in predators/parasites.
Ecosystem Balance: Predators often target weak, sick, or old individuals in a population, ensuring that the overall health of the species is maintained. Parasites similarly target hosts that may be less fit, contributing to the health of the host population.
Energy Flow: Predators and parasites are integral parts of energy transfer within ecosystems. They consume other organisms, transferring energy through the Food Chain, which sustains various trophic levels.
Control of Pests: Certain predators and parasites help control pest populations. For example, ladybugs are natural predators of aphids, helping in agricultural pest management without the use of chemical pesticides.
Disease Regulation: Some parasites play a role in controlling prey populations indirectly by spreading diseases. This helps in preventing overgrazing and maintains the health of ecosystems.