NEET stands for the National Testing Eligibility cum Entrance Test, and it is an entrance examination in India for students aspiring to pursue undergraduate medical and dental courses in government or private medical colleges. NEET is a crucial exam for students seeking admission to programs like MBBS and BDS.
The exam assesses a student's knowledge in subjects like Physics, Chemistry, and Biology. It aims to create a standardized platform for admission, ensuring that candidates from all over the country have an equal opportunity to secure seats in medical and dental colleges.
NEET has replaced various state-level medical entrance exams, streamlining the admission process for medical courses. To appear for NEET 2024, students must have completed their 10+2 education with the required subjects. Scoring well in NEET is essential for gaining admission to reputable medical institutions. It plays a pivotal role in shaping the future of aspiring doctors and dentists in India, serving as a common evaluation tool for medical college admissions across the nation.
How can an Average Student Crack NEET?
Cracking NEET as an average student requires a strategic approach. Firstly, create a realistic study schedule, allocating time to each subject daily. Focus on understanding concepts thoroughly instead of rote memorization. Utilize study materials like NCERT textbooks and practice with previous year's question papers to grasp the exam pattern. Consistency is crucial, so avoid last-minute cramming. Seek help from teachers, peers, or online resources if you face challenges in any topic. Don't hesitate to revisit difficult concepts until they are clear.
Maintain a healthy lifestyle with adequate sleep and regular breaks to enhance concentration. Physical exercise is beneficial for overall well-being. Simulate exam conditions during practice tests to improve time management. Identify weak areas and work on them strategically. Joining a coaching class or study group can provide additional support. Remember NEET success is not solely about hours spent studying but understanding and applying concepts effectively. Stay Positive, stay focused, and take care of your mental and physical health.
Tips to crack NEET
Here we have mentioned a few practical tips for an average student to crack NEET. Remember, success in NEET is not just about being a high achiever but about consistent effort, understanding concepts, and strategic preparation.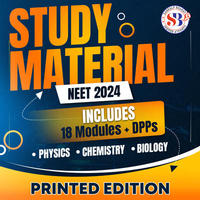 Effective Time Management:
Create a realistic study schedule and stick to it.
Prioritize topics based on their weightage in the exam.
Conceptual Understanding:
Focus on understanding fundamental concepts in Biology, Chemistry, and Physics.
Use diagrams and mnemonics to aid memory.
Master the NCERT textbooks thoroughly; NEET questions often align closely with these.
Solve a variety of problems and previous year's question papers.
Implement a consistent revision strategy.
Clarify doubts from teachers, classmates, or online resources.
Consider joining a coaching class for structured guidance.
Ensure adequate sleep and breaks to maintain focus.
Stay physically active for overall well-being.
Take regular mock tests to simulate exam conditions.
Analyze results to identify weak areas and work on them.
Maintain a positive mindset; believe in your abilities.
Don't get discouraged by challenges; view them as opportunities to improve.
Strike a balance between study and leisure.
Avoid excessive stress, and practice relaxation techniques.
Consistency is key; avoid last-minute cramming.
Break down study sessions into manageable chunks.
How to Avoid Negative Marking in NEET
To avoid negative making in NEET (National Eligibility cum Entrance Test), it's crucial to be strategic in your approach. Here are some tips by following which a student can avoid negative marking in NEET. Remember, the key is to balance speed and accuracy. It's better to answer fewer questions correctly than to attempt more and incur negative marks.
Understanding the Exam Pattern: Familiarize yourself with the NEET exam pattern, including the marking scheme. NEET typically follows a-1 for each incorrect answer format.
Selective Guessing: If you're unsure about an answer, it might be better to leave it blank rather than guess randomly. Only attempt questions you have a reasonable chance of answering correctly.
Time Management: Allocate your time wisely during the exam. Don't spend too much time on a single question. If you're stuck, move on to the next one and come back later if time permits.
Thorough Preparation: The more thoroughly you prepare for the exam, the more confident you'll be in your answers. Focus on understanding concepts rather than rote memorization.
Elimination Technique: If you can eliminate one or more answer choices as definitely incorrect, your chances of guessing the correct answer improve. Use this technique cautiously and only when you can rule out options with some certainty.
Read Questions Carefully: Misreading a question can lead to incorrect answers. Pay close attention to what is being asked before selecting your response.