The Bandhan Offer of Sankalp Bharat
The festival of Raksha Bandhan honours the relationship between brother and sister. The Hindu religion observes this event. One of their most significant festivals is this one. In addition, siblings anticipated enthusiastically throughout the entire year. In India, people observed with great fervour and excitement. The same is true for your age, whether you are a child or an adult. Raksha Bandhan is a festival celebrated by siblings of all ages. Additionally, it strengthens their relationship. The words "Raksha" and "Bandhan" are Sanskrit for "protection" and "bond," respectively. This clarifies the significance of the occasion.
On the auspicious occasion of Raksha Bandhan Sankalp Bharat brings you a "Bandhan Special Offer" for NEET and JEE 2024 students.
Key Highlights of Bandhan Special Offer
If you buy any of our products* you will get the Test Series corresponding to your course FREE
An additional 25% discount by using code "BANDHAN"
This offer is valid till the 31st of August 2023. To avail of this offer you may download the app or visit the website to take this batch and make it BANDHAN for a lifetime.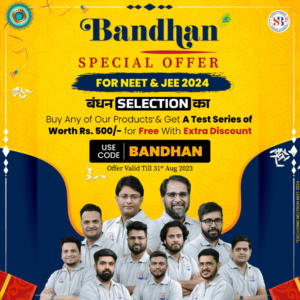 Sankalp Bharat has made this "Pyar ka Bandhan" to take care of its children and always provide them with assistance at an affordable price. At Sankalp Bharat, we offer a comprehensive and result-oriented program for NEET dropper students. Our experienced faculty members help students overcome their weaknesses and strengthen their concepts in Physics, Chemistry, Botany and Zoology.
We've designed this curriculum which will help the NEET2024, Aspirant to understand the concepts & work immensely on increasing speed while maintaining accuracy. The batches at Sankalp Bharat comes with the following:
a) India's Best Faculties
b) LIVE Classes + One Shot Recorded Lectures
c) DPPs for Question Practice
d) Weekly Tests for Practice
e) NCERT and Summary Lectures
f) Lecture Notes Let's come and celebrate this festival together and prepare for the exam to reach the best colleges of our dreams.