Indian States and Capitals: India is the 7th largest country in the world and also the 2nd most populous. India is a diverse and culturally rich Nation which comprises 28 states and 8 Union territories, each with its own unique identity, history, and administrative centre. India lies in the southern Asia. India is governed by a parliamentary form of government. It gets very difficult to manage a large country from one place. So Indian Constitution gives the right to the central government to make states feel suitable. This article aims to provide an overview of the Indian States and their Capitals, showcasing their importance and contributions to the nation.
States and Capitals of India
Many people don't know about the total number of States / Union Territories in India and their capitals. In this article, we are giving you the latest update on the States and Capitals of India. There are a total of 28 states and 8 union territories in India at present. Each state of India has an administrative, legislative and judicial capital some states all three functions are conducted in one capital. Every state is ruled by a Chief Minister. Here we have covered the list of the Indian States, Union Territories, and their capitals.
Indian States and Capitals List
India has a total of 28 states and 8 union territories. Each state adds to India's cultural tapestry, enriching and energising the country's identity. The 28 Indian States and their capitals are as follows.
The Indian States and their Capitals
State Name
Capital
Andhra Pradesh
Amaravati
Arunachal Pradesh
Itanagar
Assam
Dispur
Bihar
Patna
Chhattisgarh
Raipur
Goa
Panaji
Gujarat
Gandhinagar
Haryana
Chandigarh
Himachal Pradesh
Shimla
Jharkhand
Ranchi
Karnataka
Bengaluru
Kerala
Thiruvananthapuram
Madhya Pradesh
Bhopal
Maharashtra
Mumbai
Manipur
Imphal
Meghalaya
Shillong
Mizoram
Aizawl
Nagaland
Kohima
Odisha
Bhubaneswar
Punjab
Chandigarh
Rajasthan
Jaipur
Sikkim
Gangtok
Tamil Nadu
Chennai
Telangana
Hyderabad
Tripura
Agartala
Uttar Pradesh
Lucknow
Uttarakhand
Dehradun (Winter)
Gairsain (Summer)
West Bengal
Kolkata
All State's CM & Governor List 2023: Read This Also
Indian Union Territories and Capitals
At Present India now has 28 States and 8 Union Territories. The erstwhile state of Jammu and Kashmir has been bifurcated into two Union Territories (UT) of J&K and Ladakh. The newly formed union territories have been formed under a reorganization act passed by the Parliament on 5-6 August 2020. At present India has 8 Union Territories.
Union Territories Name
Capital
Andaman and Nicobar Islands
Port Blair
Chandigarh
Chandigarh
Dadra & Nagar Haveli and Daman & Diu
Daman
Delhi
New Delhi
Jammu and Kashmir
Srinagar (Summer)
Jammu (Winter)
Lakshadweep
Kavaratti
Puducherry
Pondicherry
Ladakh
Leh
Indian States with their Specialities
Each Indian State has a unique historical and cultural background. For example, New Delhi, India's capital, has a blend of modernity and history, Iconic landmarks such as India Gate and the Istana represent the country's past difficulties as well as its future hopes. Mumbai, the state capital of Maharashtra, is the country's financial and entertainment epicentre, as well as the home of Bollywood and India's largest stock exchange.
Indian States with their Specialities
Indian States
Specialisation
Andhra Pradesh
Andhra Pradesh is known for its spicy cuisine, historical sites like Charminar and Golconda Fort in Hyderabad, and rich culture in art, music, and dance.
Arunachal Pradesh
Arunachal Pradesh is renowned for its breathtaking landscapes, diverse tribal cultures, and the Tawang Monastery, one of the largest monasteries in India.
Assam
Assam is famous for its tea plantations, Kaziranga National Park (home to the one-horned rhinoceros), Bihu dance, and traditional silk weaving.
Bihar
Bihar is known for its historical significance, including the ancient city of Patliputra, Buddhist pilgrimage sites like Bodh Gaya, and Madhubani art.
Chhattisgarh
Chhattisgarh is recognized for its tribal heritage, rich mineral resources, and the Chitrakote Waterfall, often called the "Niagara of India."
Delhi
Delhi is famous for iconic landmarks such as India Gate and the Istana represent the country's past difficulties as well as its future hopes.
Goa
Goa is famous for its beautiful beaches, vibrant nightlife, unique blend of Indian and Portuguese cultures, and seafood cuisine.
Gujarat
Gujarat is renowned for its industrial and business prowess, the Rann of Kutch desert, vibrant festivals like Navaratri and Diwali, and the Sabarmati Ashram associated with Mahatma Gandhi.
Haryana
Haryana is known for its agricultural productivity, being a hub for industries, and Chandigarh, a well-planned city known for its architecture and urban design.
Himachal Pradesh
elebrated for its picturesque hill stations, adventure tourism, serene landscapes, and the Dalai Lama's residence in Dharamshala.
Jharkhand
Jharkhand is rich in mineral resources, known for its tribal culture, and home to the Betla National Park.
Karnataka
Karnataka is distinguished as the "Silicon Valley of India," known for its IT industry, historical sites like Hampi, and traditional dance forms like Bharatanatyam.
Kerala
Kerala is famous for its backwaters, Ayurveda practices, lush greenery, and the highest literacy rate in India.
Maharashtra
Maharashtra is also known as financial and entertainment capital, Bollywood film industry, historical landmarks like Gateway of India, and culinary delights like Vada Pav.
Manipur
Celebrated for its traditional dance forms like Manipuri dance, Loktak Lake, and vibrant festivals.
States and Capitals of India Map
You can check the latest political map of India which provides the total number of states and union territories in India and their capitals at present.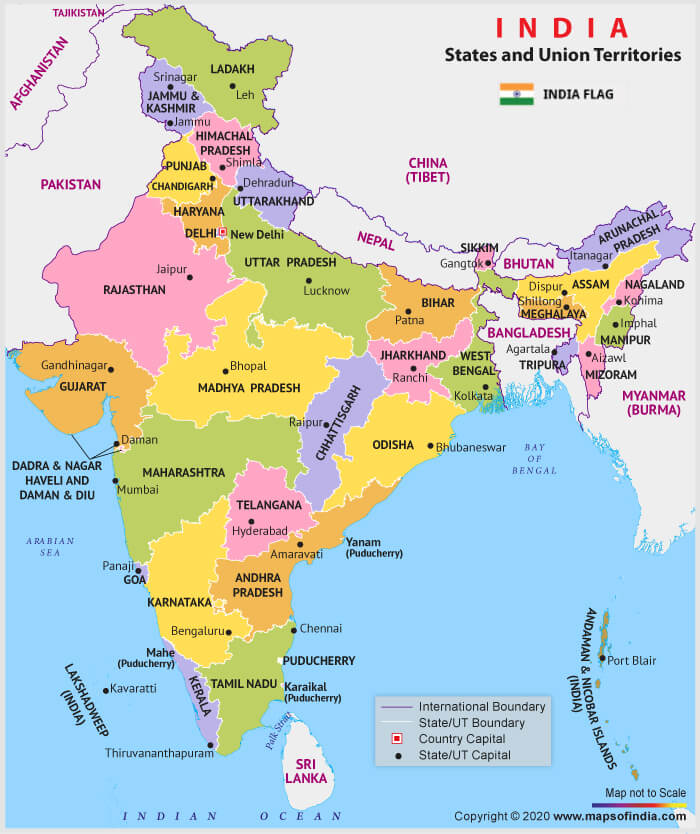 States and Capitals of India- River Map
Based on their source, the Indian River system is classified into - Himalayan Rivers and Peninsular Rivers. The Himalayan Rivers originate from the Himalayas and flow through the Northern Plains whereas Peninsular River System or Peninsular Drainage emerges mainly from the Western Ghats.
The major Himalayan River systems are The Indus River System, The Ganga River System, The Yamuna River System, and The Brahmaputra River System.
The major Peninsular River Systems are Mahanadi, Godavari, Krishna, and Cauvery.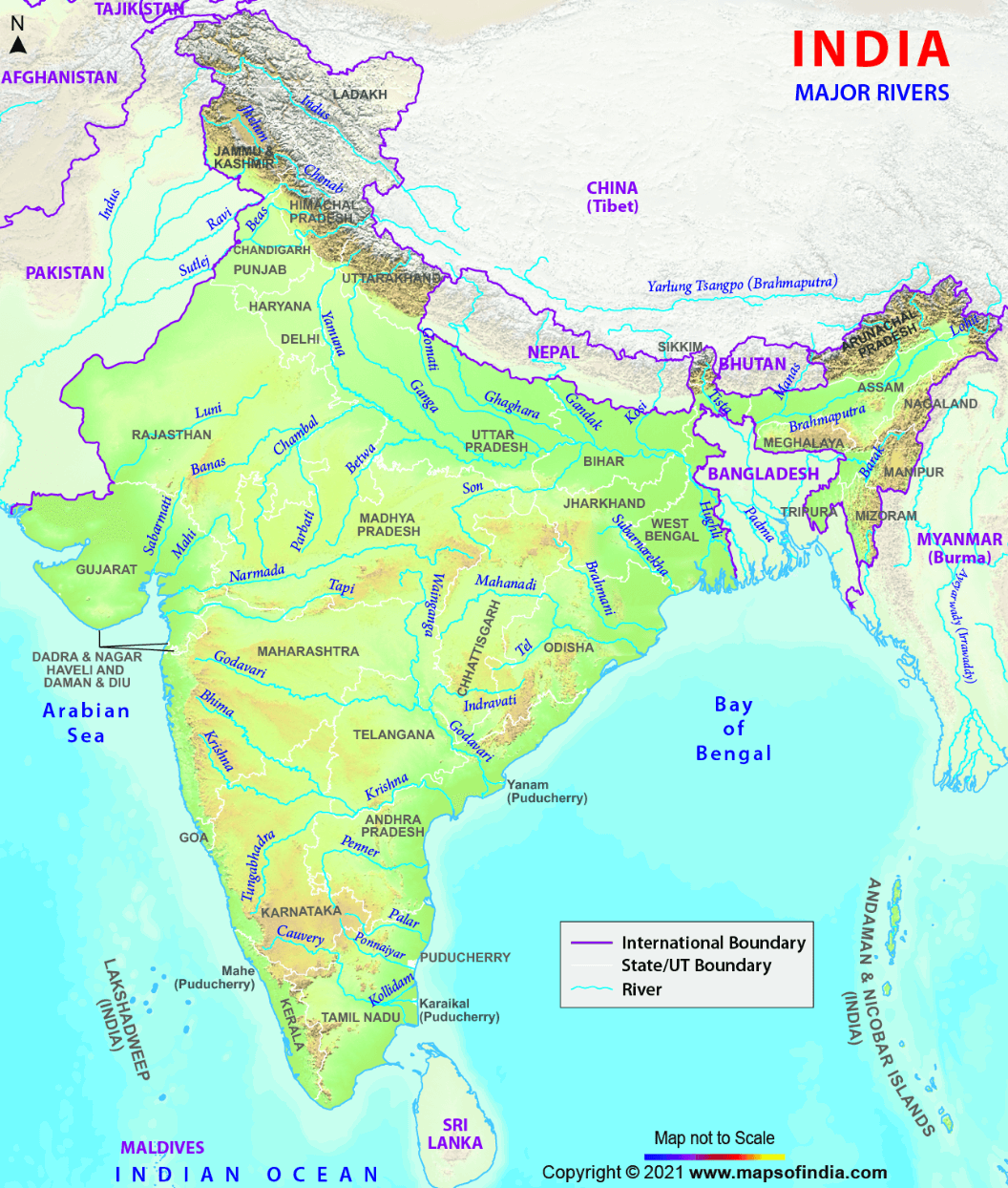 States, UTs and Capitals of India: Important Points
After getting the list of Indian States & Union Territories with their capitals, let us first understand how to segregate a state from a union territory. Out of the eight union territories in India, three union territories have their own legislatures these are Delhi, Puducherry (formerly Pondicherry) and Jammu and Kashmir. Each union territory and state has a capital of its own.
States and Capitals of India
State
Union Territories
The state has its own administrative units with their own elected government.
Union Territories are constituent units which are controlled and administered by the Central Government.
Executive Head is the Governor
Executive Head is the President
The relationship with the Centre is Federal.
Unitary with the Centre. i.e. all the powers rests in the hands of Union.
Administered by the Chief Minister and elected by the people.
Administered by the Administrator which is appointed by the President. ( except Delhi, Puducherry and Jammu & Kashmir)
Chief Minister is the real head.
The lieutenant is the real head.
States and Capitals of India: Latest Updates
Before we get into the Union Territories and their capitals, let us first have a look at the recent updates on UTs.
Since 26th January 2020, India had 8 union territories. The U.T Daman and Diu, Dadra and Nagar Haveli have become a single union territory.
On August 5, the central government had also announced the abrogation of the special status given to Jammu and Kashmir under Article 370 and its division into two Union Territories i.e. UTs of Jammu and Kashmir, and Ladakh.
With the merger of Daman and Diu, and Dadra and Nagar Haveli, the number of UT's have come down to eight.
Largest and Smallest State & UT of India: Read this Also
As responsible citizens, we should know about the states and capitals of India. The states and capitals are very commonly asked as the General Awareness Questions in a number of competitive exams held all over the country.
States and Capitals 2023- FAQs
Ans. India is a union of 28 states and 8 union territories in the country.
Ans. There are 8 union territories in India at present.
Ans. Daman and Diu is merged with Dadar and Nagar Haveli.
Ans. Jammu and Kashmir is bifurcated into Jammu and Kashmir and Ladakh Union Territories.
Ans. New Delhi is the capital of India.
Ans. Lieutenant Governor is the head of the Union Territory.