SBI PO Mains Result 2021 has been declared by State Bank of India and the shortlisted candidates must now gear up for the upcoming Interview Process. Final Round of the SBI PO Exam is the Interview Process and clearing this phase determines candidates' final selection in the prestigious SBI PO 2021 Exam. The Interview process will be conducted in March 2021.
Interview Boot Camp Course Structure for SBI PO 2021
We congratulate all the candidates who have cleared the Exam of SBI PO 2021. Now it's time for the meticulous preparation for SBI PO Interview Process. Do not leave any stone unturned for the preparation of this round as it is a make it or break it chance for the final selection in this exam. We at Career Power understand the need of candidates and provide the Interview Boot Camp Course for all the selected candidates in SBI PO Mains Exam 2021. We at career power nurture you and prep you in the process of becoming a raw bundle of knowledge to a professional force, which the bank interviews demand. So join Career Power's most sought-after Personal Interview Boot Camp for SBI PO recruitment.
Why should I choose Career Power?
The answer lies in the number of students who got successfully recruited in the different departments under Banking and SSC recruitments. In this camp we will be guiding students to be aware about the recent happenings in the world, about their own self and will discuss why the student is going for SBI PO as this is the most crucial question asked in the interview.
Structure of SBI PO Interview Boot Camp Program at Career Power
Days
Agenda
Day 1
Interview Orientation (Kind of Question)
Day 2
Current Affairs & General Awareness Important Topics
Day 3
Mock Interview + Group Discussion
Followed by 30 Minutes Review Session
Day 4
Mock Interview + Group Discussion
Followed by 30 Minutes Review Session
Day 5
Mock Interview + Group Discussion
Followed by 30 Minutes Review Session
Day 6
Mock Interview + Group Discussion
Followed by 30 Minutes Review Session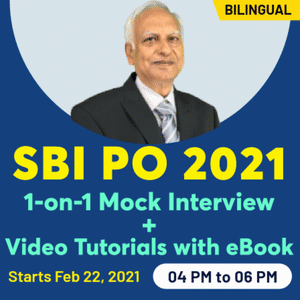 Orientation about the interview in context of SBI PO recruitment:
Personal interview preparation at Career Power is provided by senior/retired Bank officers, most of who have been on interview panel of Bank recruitments (State Bank). The session will start with a detailed discussion on what is the expectation of the banking department from a candidate, what kind of questions a candidate can expect in interview and how to go about it all. On the very first day itself, candidates are guided about resume based questions, which each of them might be asked in the interview.
Refresher Course on General Awareness for SBI PO Interview:
The preparation for the Interview for SBI PO at Career Power starts with a crash course on various subjects General Knowledge, Banking and Financial Awareness and Current Affairs. The refresher is aimed at getting you acquainted to relevant content.
Personal Interviews
Each participant will go through a series of interviews (minimum 3) and will be interviewed by a panel comprising Senior Bank officials from Industry and other experienced trainers, who have years of experience in providing Personal Interview Training. Individual feedback will be provided and progress monitored over the course of the series of interviews.
Faculty
The faculty comprises Senior Bank Officials and other experts having more than 30 years of experience in training students for Group Exercise and Personal Interview.
Interview Batch Details (Offline)
| Branch Name | Start Date | Time |
| --- | --- | --- |
| Ahmedabad | 22 Feb | 09:00-11:00 AM |
| Bhopal | 22 Feb | 10:00-02:00 PM |
| Delhi- Laxmi Nagar | 22 Feb | 11:00-02:00 PM |
| Delhi- Mukherji Nagar | 22 Feb | 10:00-02:00 PM |
| Delhi- Munirika | 22 Feb | 10:00-02:00 PM |
| Hyderabad | 22 Feb | 10:00-02:00 PM |
| Kolkata | 22 Feb | 10:00-02:00 PM |
| Lucknow | 22 Feb | 10:00-02:00 PM |
| Noida | 22 Feb | 10:00-2:00 PM |
| Rourkela | 22 Feb | 02:00-05:00 PM |