CBSE 10th Result 2021 to be Out by 31st July
The CBSE Class 10 Result 2021 will be released online as per the new guidelines on the official website cbse.gov.in and cbseresults.nic.in by 31st July 2021. A total of 18,85,885 students have registered for Class 10th Board in CBSE out of which 18,73,015 have appeared. The schools have submitted the remaining 80 marks assessment to the board by 30th June 2021. The Board had previously released a revised assessment policy for Class 10 Result as the 10th exams were cancelled due to the COVID-19 pandemic.
CBSE 10th Result 2021
Students who have appeared in the CBSE class 10 in year 2020-21 can check their result online at cbseresults.nic.in. In this article, we are providing CBSE Class 10th result latest update, pass percent, direct link to check result, steps to check scores on SMS, apps and websites. The students and parents who have been eagerly awaiting for the class 10 result must bookmark this page to get notified when the result is released officially.
CBSE 10th Result 2021: Overview
Central Board of Seconday Education will be publishing the 10th Board Result soon, the summary of CBSE 10th Board Result 2021 has been provided in the below table.
Organization Name
Central Board of Secondary Education (CBSE)
Academic Session
2020-21
Class
High School (10th Class)
CBSE Clss 10th Exam Date
Not Conducted
CBSE 10th Result Date
31st July 2021
Result Time
12:00 pm
Result Status
Not Released
Official Website
www.cbseresults.nic.in
www.cbse.nic.in
Total Students Registered
1885885
Total Students Appeared
1873015
Total Passed
--
Pass Percentage
--
CBSE Class 10th Result Link
CBSE 10th Result 2021 is expected to be released by 31st July 2021 at the official website of CBSE i.e. www.cbseresults.nic.in. The direct link to check CBSE Class 10th Result 2021 prepared with the alternative marking scheme as board exams were cancelled due to the outbreak of pandemic. Click on the direct link below (when result is out) to check the Central Board of Secondary Education (CBSE) High School Result 2021.
CBSE Board Class 10th Result 2021 Link
Students who are not satisfied with their calculated result can enroll for the special exams for which the dates will be announced soon.
Check CBSE Class 12th Result 2021 Date
How to Check CBSE Board Class 10th Result 2021?
The CBSE will be releasing the 10th Board Result on the official website www.cbseresults.nic.in. The students can follow the mentioned below steps to check your CBSE Board Class 10th result 2021.
➤ Click on the Result link given above to check CBSE 10th Class Result 2021.

➤ Enter your Roll Number.

➤ Enter your School No.

➤ Enter your Centre No.

➤ Enter your Admit Card ID.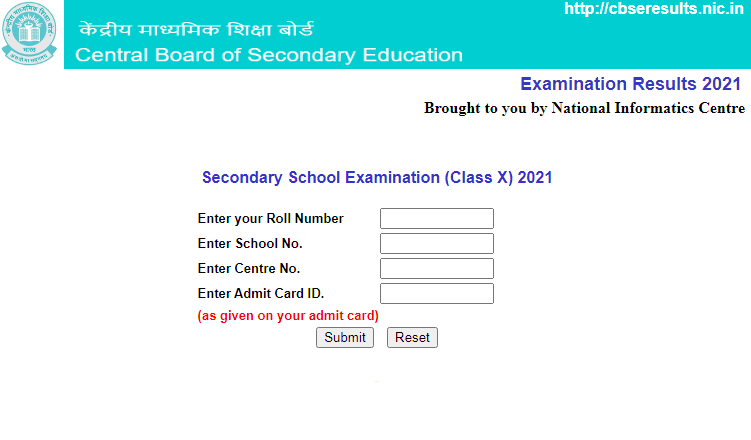 ➤ Click On the Submit Button to check CBSE 10th Result 2021.

➤ Your, CBSE Class 10th Result 2021 will be displayed on the screen.

➤ Congratulate to the passed students.

➤ Download and take a printout for future purpose.
Alternate Option to check Result of CBSE Class 10th
CBSE publishes its result on multiple platforms so that students can check their results conveniently. Around of 18 lakh students have register for class 10 board exams in schools that are affiliated to the CBSE, therefore it is diffcult to handle such huge number of students on a single digital platform. Check the alternative platforms where the students can check CBSE class 10th result
How to get CBSE Class 10th Result 2021 through UMANG App
Students can also view their results on UMANG mobile app which is available for Android, iOS users. Click on the Class 10 marksheet tab. Then, fill your credentials: Admit Card ID, Roll Number, and Date Of Birth. You will then be able to view or download your marksheet from there.
How to get CBSE Class 10th Result 2021 through IVRS Facility?
CBSE will also provide results through interactive voice response system (IVRS). NIC will provide the telephone numbers on the day of result, through which the students will get to know their marks.
How to get CBSE Class 10th Result 2021 through SMS?
Students can also get Sarkari Result of CBSE Class 10th through SMS service. Type 'CBSE10 space roll number space admit card ID' and send it to 7738299899
How to get CBSE Class 10th Result 2021 through DigiLocker App?
CBSE will provide digital academic documents of class 10th students like Marksheets, Migration Certificate and Pass Certificate through its own academic repository 'Parinam Manjusha', which is integrated with DigiLocker. The DigiLocker account credentials are being sent to students via SMS on their mobile number registered with CBSE.
Steps to access CBSE Class 10 marksheet on DigiLocker
Visit the DigiLocker website – www.digilocker.gov.in
Download the DigiLocker app on your smartphone
Click on the link for Central Board of Secondary Education (CBSE).
Select Class 10 marksheet.
Login to your account using CBSE registered mobile number and access your marksheet.
Now, you can view your marksheet.
CBSE Class 10th Result 2021: Passing Marks
No change is observed in the passing criteria of the students, however, the board has advised schools to provide grace marks to the students who fail in one or two subjects. A student has to score a minimum of 33% or 33 marks out of 100 to pass in 10th standard. This includes the marks scored by students in practical/ internal assessment as well as theory portion. Also, students have to pass in 4 out of 5 main subjects to be promoted to 11th class with a compartment.
CBSE 10th Result 2021: Revised guidelines
1. The CBSE 10th result will be released by CBSE on the basis of their performance as shared by the Schools throughout the academic year 2020-21.
2. To ensure a fair evaluation, the Result Committee includes the Principal of the school along with 7 members. The 7-member team consisted of a school teacher of Mathematics, Social Science, Science, and two languages. Apart from this, there would also be two teachers from another school to be as an external evaluator.
3. Students will be awarded marks out of 100, which has been divided into 20 & 80, 20 for internal evaluation submitted by school and remaining 80 will be based on the exams conducted by schools during the academic year.
Breakdown of 80 marks is as follows:
| Test/Exam | Maximum Marks |
| --- | --- |
| Periodic Test or Unit Tests | 10 |
| Half-yearly or mid-term | 30 |
| Pre-board Exam | 40 |
CBSE 10th Result 2021, Grace Marks & Compartment
As per the official announcement, the CBSE board would release the result based on the uploaded theory and internal assessment marks provided by the schools. In case during compilation, the board would continue with its previous policy to award grace marks. As a special measure, this year the board would also provide grace marks to the students who do not meet the qualifying criteria.
In case a student fails to qualify even after grace marks, he/she would then be placed in the Essential Repeat or Compartment Category for which the exam would be conducted by school itself. CBSE would not be conducting the compartment exams, instead sample question papers will be sent to the schools, which in turn would conduct an objective type online/offline compartment examination (as per the convenience) for all such students.
Check TN Class 12th Result 2021
Check UP Board Class 12th Result 2021
Check UP Board Class 10th Result 2021
CBSE 10th Result 2021- FAQs
Q. When is CBSE 10th Result 2021 expected?
Ans. It is expected that CBSE 10th Result for the Academic session 2020-21 will be out by 31st July 2021.
Q. What is the evaluation criteria for CBSE 10th Result 2021?
Ans. As per the new assessment polity, 80 marks would be awarded on the ratio of 10:30:40 where 10 marks for periodic/ unit tests, 30 marks for the half-yearly or mid-term exams and 40 for pre-board examinations. The remaining 20 marks will be internal assessment submitted by schools.
Q. Will CBSE 10th Results 2021 be fair?
Ans. Yes, as the board has formed a 7 member committee in order to release fair results for Class 10 students.
Q. What if the student is not satisfied with his/her result?
Ans. If any student is not satisfied with the assessment will be given an opportunity to appear in examinations which will be conducted by the board once the pandemic condition normalises.